It's Splitsville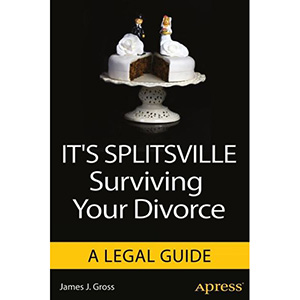 Thinking about divorce? Already in the process of divorce? You need this book. Divorce is complex, and complications are not what you need when you are facing its emotional and financial pressures.
In It's Splitsville: Surviving Your Divorce, veteran divorce attorney James J. Gross breaks down the divorce process for nonlawyers in easy-to-understand steps. He explains the legal system in plain and simple language, and he describes the process of obtaining a fair separation agreement and navigating family law and the legal system. Just as important, it explains the emotional hazards of divorce and how to withstand the myriad pressures you will face. It's Splitsville: Surviving Your Divorce:
Explains divorce laws in easy-to-understand words.
Guides you through the steps for obtaining a separation agreement.
Provides a friendly user's manual for divorce court.
Helps you and your spouse decide what's best for the children.
Shows you how to protect your assets to the legal extent possible.
Explains when and how to play hardball.
Nearly a million people get divorced each year in the United States. Many, if not most, could be handled far better for all parties involved. It's Splitsville: Surviving Your Divorce will guide you safely through the hazards of divorce, show you how to understand and survive the complicated legal process, explain underhanded tactics and how to combat them, and help emerge on the other side as a stronger, wiser, and better person.What you'll learn
If you're buying this book, you're probably beyond stay vs. go. Go!
Gain control of the emotional hazards of divorce
Take the first steps toward separation and divorce
When to handle the divorce yourself, and when to get a lawyer
Agree on a parenting plan for the children
Understand the laws about alimony, child support, the house, pensions, and other property
Explains how to come up with fair agreements that enable you to avoid court
How to navigate the legal system and divorce court
Who this book is for
Surviving Your Divorce: A Legal Guide is for anyone in the process of separation or divorce, and those thinking about it.
Table of Contents
Part I: Facing the Prospects of Divorce
Chapter 1. Timing
Chapter 2. Things to Do Now
Chapter 3. Research and Documents
Chapter 4. Can You Do It Yourself?
Chapter 5. Finding a Lawyer
Chapter 6. First Meeting with Lawyer and Beyond
Chapter 7. Custody in General
Part II: Children
Chapter 8. Physical Custody
Chapter 9. Timesharing
Chapter 10. Child Support
Part III: Finances
Chapter 11. Alimony
Chapter 12. Property and Debt
Chapter 13. The House. A Play in Three Acts
Chapter 14. Pensions, Retirement Plans, Deferred Pay, and Social Security
Chapter 15. Business Investments
Chapter 16. Bank Accounts, Stock, and Other Assets
Chapter 17. Taxes
Chapter 18. Prenuptial Agreements
Part IV: Settlement
Chapter 19. Separation Agreements
Chapter 20. Different Ways to Get a Separation Agreement
Chapter 21. Tactics and Strategies for Negotiating Your Own Separation Agreement
Chapter 22. Pleadings
Part V: Trial
Chapter 23. Evidence. Proving Your Case
Chapter 24. Trial Procedure
Chapter 25. Same-Sex Marriage and Divorce
Chapter 26. Postdivorce
Part VI: Appendix
Appendix. Sample Forms
Glossary. Glossary
Book Details
Paperback: 320 pages
Publisher: Apress; 1 edition (September 2013)
Language: English
ISBN-10: 1430257164
ISBN-13: 978-1430257165
Download [1.9 MiB]