Autodesk Maya 2014 Essentials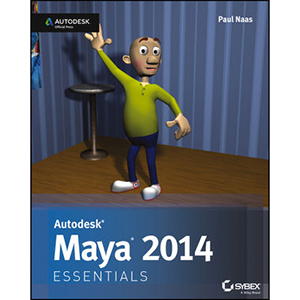 The premiere book on getting started with Maya 2014
Whether you're just beginning, or migrating from another 3D application, this step-by-step guide is what you need to get a good working knowledge of Autodesk Maya 2014. Beautifully illustrated with full-color examples and screenshots, Autodesk Maya 2014 Essentials explains the basics of Maya as well as modeling, texturing, animating, setting a scene, and creating visual effects. You'll absorb important concepts and techniques, and learn how to confidently use Maya tools the way professionals do.
Each chapter includes fun and challenging hands-on projects, which you can do as you go using the downloadable files from the book's website. They include starting and ending files, so you can compare your results to how professionals do the projects. This information-packed Autodesk Official Press book also helps you prepare for the Autodesk Maya 2014 certification exams.
Helps beginners and those migrating from other 3D animation and effects programs get up and running on Autodesk Maya 2014
Features step-by-step tutorials, hands-on exercises with downloadable files, and four-color examples and screenshots
Covers modeling, texturing, animating, visual effects, lighting, compositing, setting a scene, and more
Written by an Autodesk Authorized Author and is an Autodesk Official Press
Autodesk Maya is the industry-leading 3D animation and effects software used in movies, games, cartoons, short films, commercials, and other animation
Get firsthand experience with Maya 2014, as well as an initial start on preparing for the Autodesk Maya 2014 Certified Professional exam, with Autodesk Maya 2014 Essentials.
Table of Contents
Chapter 1. Understanding the Maya Interface
Chapter 2. Creating Your First Animation
Chapter 3. Modeling with Polygons, Part 1
Chapter 4. Modeling with Polygons, Part 2
Chapter 5. Modeling with Polygons, Part 3
Chapter 6. Sur facing Your Character
Chapter 7. Get ting Bent Out of Shape: Blend Shapes
Chapter 8. Dem Bones: Set ting Up Your Joint System
Chapter 9. Weighting Your Joints
Chapter 10. Rigging Your Character
Chapter 11. Set ting the Scene: Creating an Environment
Chapter 12. Making It Move: Animating Your Character
Chapter 13. Let There Be Light: Lighting Your Shot
Chapter 14. Rendering and Compositing Your Scene
Book Details
Paperback: 304 pages
Publisher: Sybex (July 2013)
Language: English
ISBN-10: 1118575075
ISBN-13: 978-1118575079
Download [98.4 MiB]