How to Get Government Contracts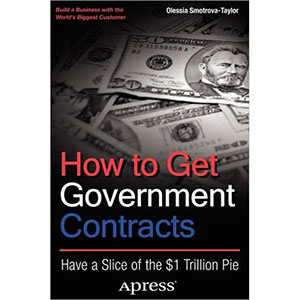 How to Get Government Contracts demystifies the process of how a company can enter the government market, win its first and subsequent contracts, and then grow itself into a multi-million-dollar government contractor within a couple of years. It offers an insider's view into the latest best practices that government contractors use to succeed in an increasingly competitive market, and it shows exactly how your company can apply these techniques to build a strong business.
Many companies venture into the government market with a certain naiveté and pay a hefty price to find out that there is much more to winning a contract than writing last-minute proposals in response to publicly posted solicitations. To stop the bleeding of precious resources, they need to step back to learn how professionals win business in the federal arena. This book shows you how to find, for example, the best potential customers and opportunities for your company. It also explains the secret to winning consistently by conducting pre-proposal preparation (also called "capture") and practicing a disciplined, process-based approach to proposal development.
This book provides a recipe for winning government contracts over and over again, the way seasoned government contractors do it. After reading this book, you will know exactly what to do to position your company to win a government proposal before a solicitation becomes public, including building customer relationships, gathering intelligence, developing a "win strategy," performing competitive analysis, selecting the best teammates, and developing a solution. As a result, you will apply professional techniques to organizing your proposal effort, outlining a proposal document, and writing RFPs that persuade evaluators to award the contract to you.
What you'll learn
The scope of federal contracts and grants and where to find information about them.
How to get information about potential contracts before they are advertised.
How to prepare your company to win contracts before submitting proposals.
How to abide by federal acquisition rules that guide your proposal and govern your work for the government.
How to take advantage of set asides for businesses owned by women, veterans, minorities, and others.
How to prepare a proposal that wows government customers and wins contracts.
How to get a steady stream of work from the government.
Who this book is for
This book is for individuals and companies wishing to get a piece of the $1 trillion the U.S. federal government spends each year in contracts and grants.
Table of Contents
Chapter 1. How to Get Government Contracts
Chapter 2. Get Started in Government Contracting
Chapter 3. Break into the Federal Arena Without Breaking Your Neck
Chapter 4. Win Procurements Before They Go Public
Chapter 5. Create Strong Relationships with Government Customers
Chapter 6. Intelligence Gathering
Chapter 7. Develop a Win Strategy
Chapter 8. Identify and Analyze Your Competition
Chapter 9. Create a Team That Compels the Customer to Select You
Chapter 10. Prepare a Solution Before the Request for Proposal
Chapter 11. The Race Is On. Get Ready to Write a Winning Proposal
Chapter 12. Wrangle the Nitty-Gritty of Proposal Details
Chapter 13. You Have Won a Few Proposals—Now What?
Appendix A. Capture Plan
Appendix B. How to Develop a Proposal Outline
Book Details
Paperback: 288 pages
Publisher: Apress (December 2012)
Language: English
ISBN-10: 1430244976
ISBN-13: 978-1430244974
Download [8.0 MiB]