Curious Folks Ask 2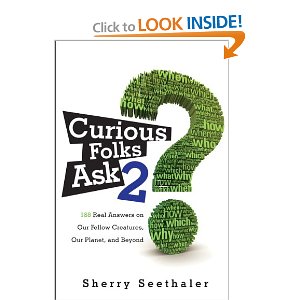 More Amazing Science Q&As from the Author of Curious Folks Ask
Why do lizards do pushups?
Does hot water really freeze faster than cold water?
Why does the moon look bigger at the horizon?
Why do some people float and others sink?
What's better, paper or plastic?
Why can't anything go faster than light?
How did oil get there?
How does carbon dating work, and why do scientists trust it?
How much does the earth weigh?
Why can't you make square soap bubbles?
From the Back Cover
"For those of us with science questions that range from the profound to the fanciful, Sherry Seethaler is here with the answers. She not only educates with this wonderful collection, she entertains."
—John Cannon, Quest editor, San Diego Union-Tribune
"If you want to learn about the 'Mpemba effect' (why hot water sometimes freezes faster than cold), if you have a burning desire to know about the biosphere we live in, if you have ever wondered about why those pesky black holes don't swallow the universe and what's beyond the 'edge' of the universe, Sherry Seethaler has a knowledgeable, well-written, and research-based answer for you. Call her the Sherlock Holmes of science. With Dr. Seethaler, the hunt's afoot for the mysteries of the world!"
—Christopher Y. Wu, PhD, Associate Director of the National Science Foundation-funded Advanced Technological Education (ATE) Mid-Pacific Information and Communications Technology Center (MPICT.org) and Principal/Founder, metacyber
W hat have you always wondered about? For more than seven years, renowned science writer Dr. Sherry Seethaler has answered questions like yours–both in her weekly column in the San Diego Union-Tribune and in her best-selling book Curious Folks Ask.
Now, she's back, with 188 more of her best science Q&As, in another book you just can't put down. Seethaler is one of this generation's best science explainers, and it shows: Every answer is accurate, fun to read, and distilled to a single page–or less!
Want to know why diamonds sparkle? How spiders build huge webs without ever getting stuck? How birds flock? What causes tornadoes? Why hard-boiled egg yolks turn green? How much electricity your new TV uses? Why dogs vary so much in size and cats don't? Why it's safe for scientists to make miniature black holes? It's all here–and plenty more!
Creepy crawlies and amazing animals
How big's a bug's brain? Do elephants hate mice? How does a kangaroo clean her pouch?
Freeway noise, bad hair days, and other funky phenomena
Is jewelry radioactive? Is rainwater really pure?
Weather, climate, and the environment
What's the real deal with recycling, drought, hurricanes, and CO2?
Our planet, our universe
New oceans, dark matter, mini black holes, and beyond
Book Details
Paperback: 240 pages
Publisher: FT Press (November 2010)
Language: English
ISBN-10: 0137057393
ISBN-13: 978-0137057399
Download [7.1 MiB]