Microsoft Excel for Stock and Option Traders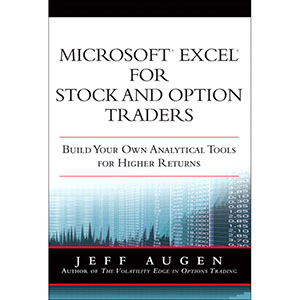 Trade More Profitably by Exploiting Excel's Powerful New Statistical and Data Mining Tools!
Uncover subtle anomalies and distortions that signal profit opportunities
Create powerful new custom indicators, alerts, and trading models
Visualize and analyze huge amounts of trading data with just a few clicks
Powerful techniques for every active investor who can use Excel
Now that high-speed traders dominate the market, yesterday's slower-paced analysis strategies are virtually worthless. To outperform, individual traders must discover fleeting market trends and inefficiencies and act on them before they disappear.
Five years ago, this required multimillion-dollar data mining and analytical infrastructures. Today, you can do it with Microsoft Excel, a powerful PC, and this book.
Step by step, world-class trader Jeff Augen shows how to use Excel 2007 or 2010 to uncover hidden correlations and reliable trade triggers based on subtle anomalies and price distortions…create and test new hypotheses others haven't considered…visualize data to reveal insights others can't see!
From the Back Cover
"Augen authors another winner. A skilled analyst and trader himself, Augen offers individuals a cutting-edge approach to analysis, utilizing simple software, which allows traders to better steer their own financial destiny. In this new book, he outlines his personal investing techniques, unlike any other technical approach I've ever seen. This unique book is a must-read for self-directed traders seeking to create their own tools to gain an edge in the computer-driven markets of today."
–Kira McCaffrey Brecht, Managing Editor, SFO Magazine
"Jeff Augen continues his streak of great books that can help traders improve returns with a book about programming option trades that doesn't require a quant degree to be put into action. He has done what I thought was impossible: He has written a programming guide for option traders that is interesting and actionable. This is the most interesting, understandable, and actionable guide to using Excel to trade options that I have read."
–Mark Sebastian, COO and Director of Education, Option Pit
"Jeff's insights into modern-day options have provided me with several real-world trading breakthroughs. I increasingly lean on Jeff for clarity in today's hard-charging, volatile markets–I'd get my hands on everything he puts out!"
–Preston James, Founder, Traders Edge Network, LLC
Trade More Profitably by Exploiting Excel's Powerful New Statistical and Data Mining Tools!
There's only one way to gain a consistent edge in today's high-speed markets: adopt the same advanced data mining and analysis techniques the institutions use. Fortunately, with Microsoft Excel and a modern PC, you can do just that. In this book, Jeff Augen covers a variety of approaches for systematically improving your trades by exploiting Excel's most powerful new features.
Augen demystifies key analytical concepts and teaches all the Excel skills you'll need. Using realistic examples, he explains everything from simple conditionals and expressions to sophisticated VBA macro programming.
You'll learn to create new indicators and alerts that identify high-profit opportunities…perform statistical analyses to back-test strategies more accurately…validate, invalidate, or tune combinations of indicators across any time frame…quickly visualize enormous datasets, so hidden trends jump out at you.
Own Excel? Use a trading platform? You already have the tools to gain a powerful trading advantage. Get this book–and put those tools to work.
Use Excel 2007/2010 to systematically improve the way you analyze trades
Translate complex trading hypotheses into simple, testable Excel models
Uncover market distortions in time to profit from them
Profit from inefficiencies that disappear in hours, minutes, or even seconds
Identify new correlations the market hasn't noticed
Perform "experiments" of virtually unlimited size, number, or complexity
Book Details
Hardcover: 208 pages
Publisher: FT Press (March 2011)
Language: English
ISBN-10: 0137131828
ISBN-13: 978-0137131822
Download [1.8 MiB]