Picture Perfect Practice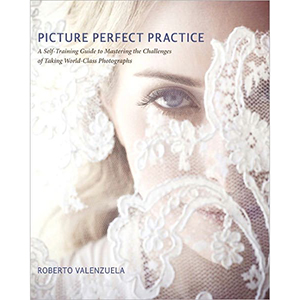 Translating the chaos of the real world into a breathtakingly simple, beautiful photograph can often seem like an impossible task. With busy, cluttered backgrounds and subjects who don't know how to pose, how can you take control and get a great shot no matter the situation? In Picture Perfect Practice, photographer Roberto Valenzuela breaks down the craft of photography into three key elements–locations, poses, and execution–that you can use to unlock the photographic opportunities lying beneath every challenging situation.
Valenzuela stresses the need for photographers to actively practice their craft every day–just like you would practice a musical instrument–in order to master the art of making great images. With chapters that offer practice exercises to strengthen your photographic abilities, you'll learn how to approach a scene, break it down, and see your way to a great photograph. The Location section features chapters that cover symmetry, balance, framing, color elements, textures, and much more. The Posing section includes the Five Key Posing Techniques that Valenzuela uses every time he's shooting people, as well as a complete list of poses and how to achieve, customize, and perfect them. The Execution portion, with sections like "Lighting through Direction" and "Simplicity through Subtraction," reveals Valenzuela's overall approach to getting the shot. The book also includes an inspiring and helpful chapter on deliberate practice techniques, where Valenzuela describes his system for practicing and analyzing his work, which leads to constant improvement as a photographer.
If you've been frustrated and overwhelmed by the challenges of real-world locations, posing your subjects, or executing a great image–or if you simply want to become a better shooter but don't know where to start–Picture Perfect Practice gives you the tools and information you need to finally become the kind of photographer you've always wanted to be: the kind who can confidently walk into any location, under any lighting condition, with any subject, and know that you can create astonishing photographs that have a timeless impact.
Table of Contents
Part 1. Locations
1. Geometry
2. Balance
3. Parallel Lines
4. Symmetry
5. Color Elements
6. Depth
7. Shadows
8. Silhouettes
9. Reflections
10. Patterns and Repetitions
11. Framing
12. Paintings and Artwork
13. Contrasts
14. Lens Flare
15. Walls, Translucent Surfaces, and Textures
Part 2. Poses
16. Five Key Posing Techniques
17. Posing Chart
Part 3. Execution
18. Execution
Part 4. Deliberate Practice
19. Deliberate Practice
Book Details
Paperback: 360 pages
Publisher: New Riders Press (February 2012)
Language: English
ISBN-10: 0321803531
ISBN-13: 978-0321803535
Download [45.3 MiB]