Black and White: From Snapshots to Great Shots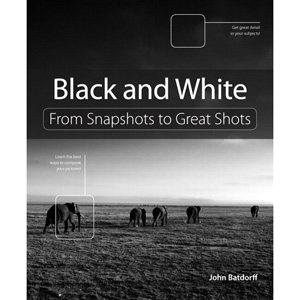 Now that you've bought that amazing new DSLR, you need a book that goes beyond the camera manual to capture stunning images. For digital photographers interested in black and white, this guide will help beginning- and intermediate-level shooters conquer the fundamentals and take amazing shots.
Pro photographer John Batdorff starts with the basics, including composition, light, contrast, exposure, and when to choose black and white. He covers all the key camera features (regardless of what type of DSLR you have) that affect your image, including the shutter speed's ability to freeze and convey motion, and the aperture's direct correlation with depth of field.
Once you've captured those great shots, John takes you step by step through the color conversion process to black and white in Adobe Photoshop Lightroom using simple presets. He also covers the enhancements and features that can be added using Nik Silver Efex Pro software–from presets to control points using U-Point Technology.
Follow along with your friendly and knowledgeable guide and you will:
Learn to see in black and white by understanding contrast, texture, and lighting
Understand all the best tricks and techniques for getting great black and white action shots, landscapes, and portraits
Create your own digital workflow by understanding the basics of post processing in Lightroom, then go beyond the basics with Nik Silver Efex Pro
Share your images and learn tips on printing and presenting your work online
And once you've got the shot, show it off! Join the book's Flickr group, share your photos, and discuss how you use your camera to get great black and white shots at flickr.com/groups/blackandwhite fromsnapshotstogreatshots.
Table of Contents
Chapter 1: Equipment: Starting with a Strong Foundation
Chapter 2: Composition and Light: Visualizing Your Masterpiece
Chapter 3: Exposure: Capturing a Great Image
Chapter 4: Post Processing: Realizing Your Vision with Adobe Photoshop Lightroom
Chapter 5: Black and White Effects: Defining Your Style Using Nik Software Silver Efex Pro and Other Plug ins
Chapter 6: Print, Post, and Share: Showcasing Your Final Images
Book Details
Paperback: 240 pages
Publisher: Peachpit Press (July 2011)
Language: English
ISBN-10: 0321774574
ISBN-13: 978-0321774576
Download [35.0 MiB]