The Minimalist Photographer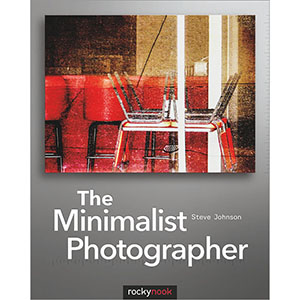 This book covers photography from a minimalist perspective, proving that it is possible to take very good photographs with relatively cheap equipment. The minimalist process emphasizes the importance of first knowing what you want to achieve as a photographer and then choosing the most effective equipment, subject matter, and general approach to meet your goals. The minimalist photographer works with the idea that the brain and the eye are far more important than the camera.
Author Steve Johnson begins by asking you, the reader, to look inward and make the connections between your nature and your photography. Why do you want to take photographs and what subject matter are you attracted to? What type of photographer are you now and what type of photographer would you like to become? These are important questions to consider when deciding what approach works best for you.
In subsequent chapters, you'll learn about the equipment and workflow of a minimalist photographer as Johnson discusses the strengths and weaknesses of various types of cameras and explains why the biggest or most expensive piece of equipment is not always the best. He also addresses the importance of lighting and teaches you how to achieve effective lighting without spending a lot of money.
Also included are discussions about aesthetics and composition, as well as a brief history of photography and the future of the art form.
Table of Contents
Chapter 1. You
Chapter 2. A Minimalist Approach
Chapter 3. The Basics
Chapter 4. The Camera
Chapter 5. Light
Chapter 6. Composition and Aesthetics
Chapter 7. Photography Philosophy
Chapter 8. A History of Photography
Chapter 9. What Next?
Book Details
Paperback: 144 pages
Publisher: Rocky Nook (April 2013)
Language: English
ISBN-10: 1937538095
ISBN-13: 978-1937538095
Download [40.4 MiB]