Celtx Open Source Screenwriting: Beginner's Guide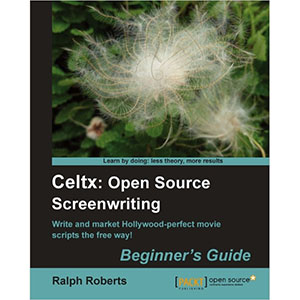 We've all watched a disappointing movie and said, "I could write it better than that." Perhaps you can! It doesn't matter how good your script might be – if it doesn't look right, producers and agents won't read it. The answer (and it's an easy one) to writing screenplays in the rigid format required is Celtx!
This book on Celtx answers the NEED millions of screenwriters have – how to turn out a pro-looking script without spending hundreds on Final Draft or Movie Magic. It includes screenplay formatting and structuring examples, excerpts from both classic movie scripts and some of the author's own as examples, tips on marketing, and so forth.
Celtx: Open Source Screenwriting Beginner's Guide will make you an expert at storyboarding, audio visual scripts (such as for documentaries), comic books, developing characters, and more. It begins with the basics of getting started with Celtx and then moves on to the important aspects of writing and formatting scripts. With this book in hand, you will develop all the skills of a professional scriptwriter. If you have the creativity it takes to come up with a brilliant script, this book does everything else for you!
This book takes you through a tour of Celtx, what to use it for, and what to do with your excellent results (with a lot of hard-learned tips from the author). In simple terms, this book shows you how to get up to speed writing scripts and the other neat things Celtx does.
This illustrative guide will show you how to turn out a professional-looking script using Celtx.
What you will learn from this book :
Obtain and install Celtx and get started with it
Get acquainted with all the writing features of Celtx
Work with tools to organize your writing prowess
Learn how to write a brilliant feature movie
Write gripping documentaries and other audio-visual projects
Learn how to present excellent stage plays, podcasts, comic books, and other great scripts
Market your scripts so that they reach the right people and you get due credit
Approach
This is a beginner's guide – a hand-holding fun ride with step-by-step instructions and illustrative screenshots.
Who this book is written for
If you want to write a professional script or screenplay using the open source tool Celtx, this book is for you. You need not have any previous knowledge of Celtx or any other writing software.
Book Details
Paperback: 376 pages
Publisher: Packt Publishing (March 2011)
Language: English
ISBN-10: 1849513821
ISBN-13: 978-1849513821
Download [18.4 MiB]