Google+ For Dummies, Portable Edition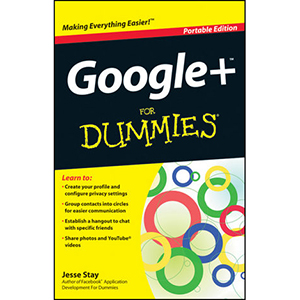 A new social network! Here's your user's guide to Google+
Google+ is Google's new social network and from day one it has had the social media world abuzz with excitement. Early fans claim it's easier to use than Facebook and Twitter and has a wealth of creative new features. If you want to learn how to navigate this new social neighborhood, take along Google+ For Dummies as your guide. Early Google+ adopter and social media consultant Jesse Stay shows you how to get started, create a profile, set up privacy settings, chat, post, control who sees what, and much more.
Explains how to join Google+, protect your information, and make the most of this new social network
Explores cool new features, such as Circles, which allows you to drag and drop friends into different circles
Covers creating a profile, finding friends, adding people to Circles, chatting with others in Hangouts, importing photos, controlling who sees what, and more
Conveys helpful information in the clear, friendly, easy-to-follow language that has defined the Dummies series for two decades
Confidently enter the exciting new Google+ social neighborhood with Google+ For Dummies.
From the Back Cover
Here's how to get the most from Google's new social network!
Google+ is designed to let you control how you socialize. This quick-and-easy guide helps you get started with Google+, find followers and people you want to follow, manage your contacts with circles, set up a hangout, get just the news feeds you're interested in with sparks, protect your photos and data, and much more.
Share with those who care — group people in circles so you can share information with only those who are interested
Choose your audience — see how to post to circles, individuals, or e-mail addresses
The privacy thing — control who can see your profile and posts
Just hangin' out — set up a hangout for those you chat with most often
Strike some sparks — use sparks to quickly find news you care about
Google+ to go — use Google+ on your iPhone®, Android device, and the mobile web
Picture perfect — upload your photos to Picasa Web and share them to Google+
Open the book and find:
A guide to setting up your account
How to share links and media
Hints for administeringa hangout
When to tag other people —and when not to
What to do about trolls
How to back up your data
Ten cool third-party apps
Learn to:
Create your profile and configure privacy settings
Group contacts into circles for easier communication
Establish a hangout to chat with specific friends
Share photos and YouTube® videos
Book Details
Paperback: 144 pages
Publisher: For Dummies; Portable Edition (November 2011)
Language: English
ISBN-10: 1118181298
ISBN-13: 978-1118181294
Download [3.1 MiB]