OS X Mountain Lion All-in-One For Dummies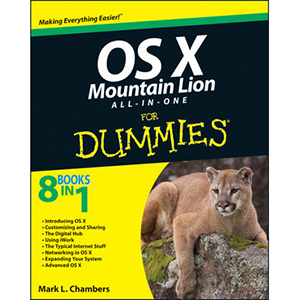 The big new book on Apple's big new cat?OS X Mountain Lion
The 800+ pages in this value-packed guide cover everything you need to know to get the most out of OS X Mountain Lion. Eight minibooks are packed with detailed information covering essential topics such as OS X basics, customizing and sharing, creating digital hubs, using iWork, networking, advanced functions, and more. You'll learn how to keep your system safe with the amazing new Gatekeeper, integrate Twitter and Facebook into your Mac life, get your head in the iCloud, and a host of other cool and practical new functions.
Features eight minibooks: Introducing OS X, Customizing and Sharing, the Digital Hub, Using iWork, the Typical Internet Stuff, Networking in OS X, Expanding Your System, and Advanced OS X
Covers new OS X features that bring more of the iOS experience to the Mac desktop, including Messages, Notes, Reminders, Notification Center, Power Nap, Twitter and Facebook integration, Gatekeeper, Dictation, and Game Center
Shows you how to search with Spotlight, backup and restore your system with iCloud, tweak images with iPhoto, go Hollywood with iMovie, create websites, use FaceTime, turn your Mac into a DVD theatre, and jam with GarageBand and iTunes
Explains how to stay secure, go wireless, expand your system, troubleshoot problems, and much more
If you want one book for all things OS X Mountain Lion, you'll want OS X Mountain Lion All-in-One For Dummies.
From the Back Cover
Make the leap to OS X Mountain Lion and reach new heights of productivity and fun with your Mac
With OS X Mountain Lion and all its new features, your Mac will take you to new heights. Like your own personal Sherpa, For Dummies will guide you every step of the way. From the basics for first time Mac users to staying connected with Notification Center to being entertained and getting important work done, you'll tame Mountain Lion in no time at all.
Start at the base — get acquainted with OS X Mountain Lion, navigate around the desktop with Launchpad and Mission Control, and sync everything in the iCloud
Own it — build the Finder of your dreams, give your desktop the personal touch, set up multiuser accounts, and share your Mac with others
Just jammin' — manage and share your media with iPhoto®, iMovie®, iTunes®, and GarageBand®
The business end — use iWork® to create impressive documents, spreadsheets, and presentations
The world wide thing — surf the web with Safari®, stay in touch with Messages, video chat with FaceTime®, and download apps
Make the connection — set up your network, go wireless with AirPort Extreme®, and stay protected with Gatekeeper
Take it up a notch — increase performance by adding RAM, run Windows on your Mac, and try out some super apps and add-ons
Open the book and find:
Steps for getting started with OS X
How to organize your life with Reminders and Notes
Advice for keeping all your devices in sync with iCloud
Tips for staying safe and secure online
How to be more productive with iWork
Details about turning spoken words into text with Dictation
Troubleshooting advice
Time-saving AppleScript® secrets
8 books in 1
Introducing OS X
Customizing and Sharing
The Digital Hub
Using iWork®
The Typical Internet Stuff
Networking in OS X
Expanding Your System
Advanced OS X
Book Details
Paperback: 816 pages
Publisher: For Dummies (September 2012)
Language: English
ISBN-10: 111839416X
ISBN-13: 978-1118394168
Download [22.9 MiB]