The Unofficial LEGO Builder's Guide, 2nd Edition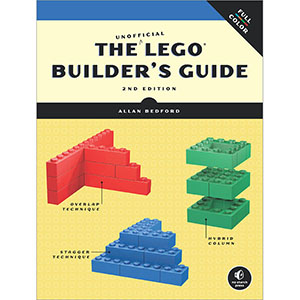 What's the difference between a tile and a plate? Why isn't it a good idea to stack bricks in columns to make a wall? How do you build a LEGO mosaic or build at different scales? You'll find the answers to these and other questions in The Unofficial LEGO Builder's Guide.
Now in full color, this brand-new edition of a well-loved favorite will show you how to:
Construct models that won't fall apart
Choose the right pieces and substitute when needed
Build to micro, jumbo, and miniland scale
Make playable board games out of LEGO pieces
Create photo mosaics and curved sculptures
Build a miniature space shuttle, a minifig-sized train station, and more
Of course, the real fun of LEGO building lies in creating your own models—from choosing the subject to clicking that final brick into place. Learn how in The Unofficial LEGO Builder's Guide.
Includes the Brickopedia, a visual dictionary of nearly 300 of the most commonly used LEGO elements!
Table of Contents
Chapter 1. The LEGO System: Endless Possibilities
Chapter 2. Back to Basics: Tips and Techniques
Chapter 3. Minifig Scale: Oh, What a Wonderful Minifig World It Is!
Chapter 4. Miniland Scale: The Whole World in Miniature
Chapter 5. Jumbo Elements: Building Bigger Bricks
Chapter 6. Microscale Building: More Than Meets the Eye
Chapter 7. Sculptures: The Shape of Things to Build
Chapter 8. Mosaics: Patterns and Pictures in Bricks
Chapter 9. Putting It All Together: Where Ideas Meet Bricks
Chapter 10. Beyond Just Bricks: Other Ways to Enjoy the LEGO Hobby
Appendix A. Brickopedia
Appendix B. Design Grids: Building Better by Planning Ahead
Book Details
Paperback: 240 pages
Publisher: No Starch Press; 2nd Edition (October 2012)
Language: English
ISBN-10: 1593274416
ISBN-13: 978-1593274412
Download [43.5 MiB]