MOS 2013 Study Guide for Microsoft Word Expert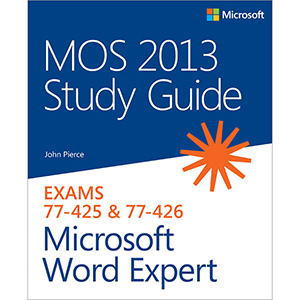 Demonstrate your expertise with Microsoft Office! Designed to help you practice and prepare for the 2013 Word Expert Microsoft Office Specialist (MOS) exams, this all-in-one study guide features:
Full, objective-by-objective exam coverage
Easy-to-follow procedures and illustrations to review essential skills
Hands-on practice tasks to apply what you've learned; files included
Online pre-test to assess your readiness
Use the in-depth exam prep, practice, and review to help advance your proficiency with Microsoft Office—and earn the credential that proves it!
Table of Contents
Chapter 1. Manage and Share Documents
Chapter 2. Design Advanced Documents
Chapter 3. Create Advanced References
Chapter 4. Create Custom Word Elements
About the Author
John Pierce is a writer with Microsoft's Information Worker New Markets group and a former editor and writer at Microsoft Press®. He is the author of Microsoft Office Access® 2003 Inside Track.

Book Details
Paperback: 190 pages
Publisher: Microsoft Press (August 2013)
Language: English
ISBN-10: 0735669260
ISBN-13: 978-0735669260
Download [9.3 MiB]