Getting to Know SEO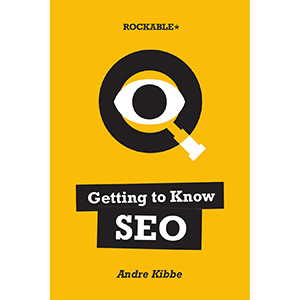 Content analyst and SEO expert Andre Kibbe explains how Search Engine Optimization can drive steady traffic to your site.
As you progress through the book, you'll learn about structuring a website for SEO, the importance of keywords, research and strategy, link building, and understanding backlinks.By the time you reach the final page, you'll be equipped to use SEO personally and professionally to give your websites an edge against the competition.
What the book covers:
Content + Links = SEO
The particulars of SEO might change from moment to moment, but the two pillars of SEO—content and links—remain unchanged. We'll discuss how the content on your web pages need to closely match what is being typed into a search engine, meaning that it needs to have "relevancy". More importantly, it needs to have links from other websites to be recognized as an authority source, which give the content "authority". Authority depends on the number of links received and the text used in those links.
The Importance of Keywords
The biggest flaw in the "just write good content" argument from an SEO perspective is writers' frequent misunderstanding of how search engines recognize content, which often requires more literal wording to be indexed under a particular search term. You'll learn how a few simple changes in the wording of your page copy to focus on keywords (the phrases people type into search engines) can have dramatic effects on search engine rankings.
Keyword Research Explained
Once the effects of keywords choices are understood, you need a strategy for picking out better keywords. We'll take a look at the Google AdWords Keyword Tool, used to generate and compare hundreds of keyword ideas by showing you their search frequency and cost-per-click (CPC).
On-Page Optimization
By learning a handful of simple HTML concepts, you'll understand how to optimize your web pages for search engines. On-page SEO involves placement of keywords in certain HTML elements: the title tag, the meta description tag, the anchor text used in links, the alt-text used in photos, and so on.
Understanding Backlinks
Due to Google's revolutionary PageRank algorithm, links unquestionably play the most important role in a web page's position in search engines. You'll learn the main factors that determine the quantity and quality of the links you can attract naturally, and the ones that can be built… less naturally.
Getting Links
Link building is the hardest part of SEO. We'll take a look at some of the safest and most reliable techniques for getting links.
Understanding Competition
Some market niches are more competitive than others, and within a particular niche, some keywords are more competitive than others. Evaluating the competitiveness of the keywords you're planning to target is critical. Competitive analysis will show you how to find keywords that you can rank for in a couple of weeks, rather than several months. You'll find other keywords that, however seductive, are simply too competitive to spend time targeting.
Sharpening the Saw
As mentioned, SEO is a rapidly changing field due to Google's frequent algorithm updates. We'll take a look at a handful of highly respected websites that provide great information on current best practices.
Book Details
Paperback: 99 pages
Publisher: Rockable Press (2012)
Language: English
Download [2.6 MiB]