Display Advertising: An Hour a Day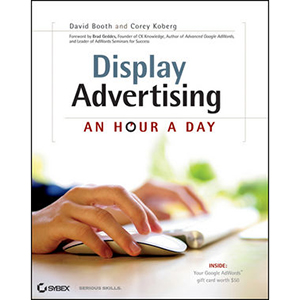 A complete guide to developing, implementing, monitoring, and optimizing an online display ad campaign
The display business is online advertising's fastest growing field. Google and others are starting to provide easy tools to enable small- and medium-sized businesses to take advantage of this opportunity. This guide provides marketers, consultants, and small-business owners with the knowledge and skills to create and optimize a display advertising campaign. It covers concepts, trends, and best practices, and presents a day-to-day plan for developing, managing, and measuring a successful campaign.
Online display advertising is a hot topic, and this hands-on guide helps marketing professionals and small-business owners gain the skills to create and manage their own campaigns
Provides an overview of display advertising concepts, including types, formats, and how they're placed on websites
Explains how to plan a campaign, including defining goals and planning resources, contextual and placement targeting, and keyword use
Covers campaign launch and measurement, ad creation, social media advertising, how to optimize a campaign, and much more
Display Advertising: An Hour a Day helps anyone promote a business successfully with effective online display ad campaigns.
Table of Contents
Chapter 1. Online Advertising
Chapter 2. Overview of Display Advertising
Chapter 3. Fundamental Display Advertising Concepts
Chapter 4. Month 1: Planning Your Campaigns
Chapter 5. Month 2: Targeting Your Audience
Chapter 6. Month 3: Building Your First Display Campaign
Chapter 7. Month 4: Creating Image Ads
Chapter 8. Month 5: Video Ads
Chapter 9. Month 6: Launch and Measure Your Campaign's Performance
Chapter 10. Month 7: Optimizing the Performance of Your Campaigns
Chapter 11. Month 8: Advanced Topics
Chapter 12. Month 9: Using LinkedIn and Facebook Display Ads
Book Details
Paperback: 528 pages
Publisher: Sybex (September 2012)
Language: English
ISBN-10: 1118179714
ISBN-13: 978-1118179710
Download [86.6 MiB]