SEO Made Simple, 2nd Edition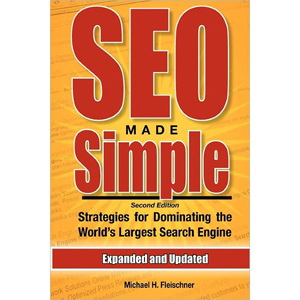 Today's leading SEO Book, SEO Made Simple: Search Engine Optimization Strategies for Dominating the World's Leading Search Engine, 2nd Edition, is a tell-all search engine optimization guide for anyone trying to reach the highly coveted #1 ranking on Google for their website or blog. Updated and expanded with the latest information on search engine optimization (SEO) and including more than 20 new pages of proven search engine optimization techniques. SEO Made Simple is today's top-selling search engine optimization guide. Learn from leading Webmaster, Michael H. Fleischner, the specific SEO techniques that deliver top rankings in less than 30 days.
Whether you're a search engine optimization expert or new to website rankings, the techniques revealed in SEO Made Simple will give you everything you need to dominate Google and other leading search engines. Generate tons of traffic to your website absolutely FREE with top search engine placement on Google, Yahoo! and Bing. SEO Made Simple has helped more individuals than another other search engine optimization guide ever printed to achieve top rankings for even the most competitive keywords. This guide has been updated with the latest SEO advice on social media, Google Places, and even a step-by-step link building process that has already produced top results for some of the most sought after keywords. If you are looking for a guide that provides the information you need to achieve top rankings, without all of the useless fluff, this is it. SEO Made Simple is the only resource on search engine optimization that you'll ever need. Learn the techniques that have a direct and significant impact on your website's ranking. This book is ranked #1 for a reason. Read our reviews and see for yourself why SEO Made Simple is your most important resource for acquiring top search engine rankings.
Table of Contents
Foreword
What You Need to Know about Google
OnPage Optimization
OffPage Optimization
The SEO Made Simple OffPage Techniques
LinkBuilding Process
Book Details
Paperback: 138 pages
Publisher: CreateSpace; 2nd Edition (February 2011)
Language: English
ISBN-10: 1460908511
ISBN-13: 978-1460908518
Download [1.5 MiB]