Search Engine Optimization Secrets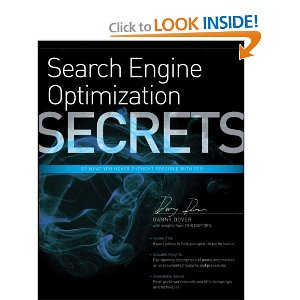 Tips, tricks, and little-known methods used by professional SEO consultants to rank in some of the most competitive search phrases
Search engine optimization (SEO) is the process of creating, formatting and promoting web pages in a manner that ensures that they are ranked highly for chosen keyword phrases after a user performs a Web search. This unique book taps the relatively unknown market of advanced SEO knowledge, and reveals secrets used by only the best SEO consultants.
You'll take your Internet marketing skills to the next level as you gain a thorough understanding of standard SEO techniques such as on-page optimization, off-page optimization, and link building. Packed with real-world examples, this essential guide demonstrates how real SEO consultants work with Fortune 500 companies to get the results they desire.
Explains the basics of search engine optimization (SEO) and how it enables a specific site to rank high in a Web search based on particular keyword phrases
Shares little-known tricks and tips of SEO consultants that work with Fortune 500 companies
Demonstrates how to perform a professional SEO Web site audit
Reveals the techniques that current SEO leaders use to remain high in rankings
Divulges secrets for spying on your competitors' ranking techniques
As the only book focused on the subject of SEO consulting, this must-have resource unveils secret tricks of the trade.
From the Back Cover
When you open this book, you'll feel as though you're sitting down with experts who are disclosing rare information about search engine optimization. You'll benefit from the authors' success as SEO professionals while they uncover tactics, strategies, and secrets for using SEO to improve rankings and drive traffic to specific sites. Additionally, the book contains two full-length annotated SEO reports to help you take your consulting to the professional level.
The Insider's Guide to:
Understanding search engine optimization like the pros
Making money from SEO consulting
Getting into the inner circles of the SEO industry
Choosing the right SEO troubleshooting tools for your SEO problems
Fixing search engine penalties
Using your competitors to your advantage
Using alternative search engines
Testing your SEO for optimal performance
The Secrets series reveals:
Authoritative information in highlighted areas
Exceptional advice in the margin notes
Unique insight from years of author experience
Rarely revealed tips and techniques
Invaluable shortcuts and workarounds
Insider Tips – Expert advice to help you optimize performance
Valuable Insights – Eye-opening descriptions of poorly documentedor undocumented features and procedures
Unbeatable Advice – Real-world workarounds and little-known tipsand techniques
Book Details
Paperback: 456 pages
Publisher: Wiley (March, 2011)
Language: English
ISBN-10: 9780470554180
ISBN-13: 978-0470554180
Download [15.6 MiB]