Adventure Sports Photography: Creating Dramatic Images in Wild Places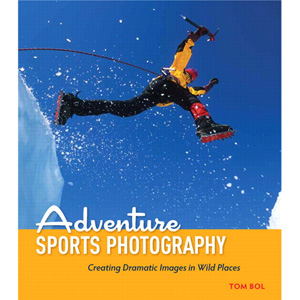 Adventure Sports Photography, by renowned photographer and workshop leader Tom Bol, combines personal stories from field experience with expert photo technique. Aspiring outdoor photographers, both adventure sports shooters and outdoor photography enthusiasts, will find this book to be a valuable reference and guide. It covers everything an adventure sports shooter needs to know to get the shot–from packing and organizing gear for an afternoon shoot of rock climbing at the local crag to a month-long sea kayaking expedition. You'll explore composition and creative angles for stunning adventure sports images, and learn in-depth techniques for using speedlights and strobes for creative lighting when you're shooting in the field. This book also shows you how to create a sequence shot and set up an effective digital workflow. In addition to creating environmental portraits, you'll find out how to produce quality video of adventure sports.
Tom Bol has been photographing adventure sports for more than 25 years, documenting adventures on every continent, and his work has been published worldwide. He is a regular contributor to Digital Photo magazine, and he's been recognized as one of National Geographic Adventure's "50 of America's Top Visionaries" for his photography. Tom's work has been featured by Elinchrom, LowePro, Manfrotto, and Nikon, and he is a Sandisk Extreme Team member. PDN readers voted Tom one of the photography world's best workshop leaders. He is also an instructor at Kelby Training, Maine Photo Workshops, Photo Quest Adventures, and Strabo Photo Tours.
Table of Contents
1. Pack the Right Gear
2. On the Road
3. Creative Composition
4. Lighting in the Field
5. Photographing Watersports
6. Photographing Mountain Sports
7. Photographing Winter Sports
8. Portraits
9. Video
10. In the Office
Book Details
Paperback: 288 pages
Publisher: Peachpit Press (November 2011)
Language: English
ISBN-10: 0321809823
ISBN-13: 978-0321809827
Download [56.0 MiB]