iPhoto '11: The Missing Manual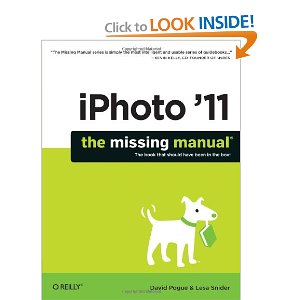 With better ways to get your photos online and new options for creating printed projects, iPhoto '11 makes it easier than ever to transfer photos from a digital camera, organize them, and publish, print, or share them in maps—but there's still no printed manual for the program. Fortunately, David Pogue and Lesa Snider team up in this witty, authoritative book that should have been in the box.
Organize your collection. Discover all of the options for grouping your pictures—by events, in albums, or based on who's in the photo or where it was taken.
Sharpen your editing skills. Learn how to use iPhoto's beefed-up editing options, including its Photoshop-like adjustments panel.
Share images online. Get your photos to everyone on your list by publishing them to Flickr, Facebook, and MobileMe.
Dive into creative projects. Have fun building slideshows (with music), gift books, calendars, and cards.
About the Author
David Pogue is the weekly personal-technology columnist for The New York Times and an Emmy-award-winning tech correspondent for CBS News. His funny tech videos appear weekly on CNBC. With 3 million books in print, he is also one of the world's bestselling how-to authors. In 1999, he launched his own series of amusing, practical, and user-friendly computer books called Missing Manuals, which now includes more than 100 titles.
Lesa Snider is an internationally acclaimed speaker and the author of Photoshop CS5: The Missing Manual. She writes a monthly column for Photoshop User, Photoshop Elements Techniques, and Macworld magazines. In addition, Lesa is a stock photographer and chief evangelist for iStockphoto.com, and founder of the creative tutorial site www.GraphicReporter.com. Lesa has recorded many training videos including "From Photo to Graphic Art," "Practical Photoshop Elements," "Photoshop Elements for Photographers" (all at www.KelbyTraining.com), and "Graphic Secrets for Business Professionals" (www.Lynda.com).
She teaches in the Denver/Boulder area for Mike's Camera (www.mikescamera.com) and hosts her own European River Cruise workshop, "Digital Photography on the Danube" (www.photocruisewithlesa.com). She also speaks at conferences such as Photoshop World, Mac Computer Expo, Macworld Expo, Geek Girl Boot Camp, Santa Fe Workshops, and a slew of Mac User Groups (she's a proud member of COMUG.com and NCMUG.org). You can email her at [email protected]
Book Details
Paperback: 384 pages
Publisher: Pogue Press (March, 2011)
Language: English
ISBN-10: 1449393233
ISBN-13: 978-1449393236
Download [60.6 MiB]