Mastering Apple Aperture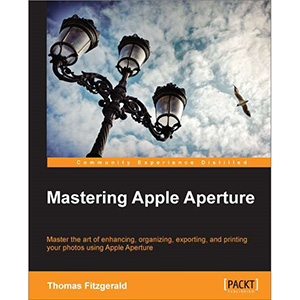 Apple Aperture is one of the leading photo editing software packages available in today's market. It provides you with all the tools to organize, browse, and perfect your images, so you can make every shot your best shot.
Mastering Apple Aperture aims to teach you the skills and knowledge necessary to become a master of the Apple Aperture software. It will build upon your existing core skills and show you new and advanced ways to get things done in Apple's powerful photography software.
Mastering Apple Aperture starts by showing you the most simple and efficient ways to import and organize your images. It then takes you through the techniques for processing photos before moving on to cover advanced topics like working with tethered shooting, multiple libraries, curves, and metadata.
You will discover how to edit images in Aperture and will gain complete mastery over processing images. You will also explore ways of extending Aperture through the use of plugins and third-party software. This book concludes with tips and tricks for the best ways to output images from Aperture, whether for print or for screen.
What you will learn from this book
Master importing your photos into Aperture
Understand how raw conversion works and how it affects your photographs
Explore Aperture's adjustment panel and learn advanced processing techniques
Master the art of entering metadata and learn why it is important
Get the best results when outputting your photographs for the Web or other online services
Learn how to use other software in tandem with Aperture
Optimize Aperture with essential third-party plugins
Fix common image problems with Aperture's toolset
Approach
This is a practical, step-by-step guide that aims at taking your understanding of Aperture from novice to master.
Who this book is written for
This book is written for photographers who have an understanding of digital photography and who have a basic level of familiarity with Apple's Aperture software. It is assumed that you have used Aperture and are familiar with the basics of the software.
Book Details
Paperback: 264 pages
Publisher: Packt Publishing (August 2013)
Language: English
ISBN-10: 1849693560
ISBN-13: 978-1849693561
Download [33.5 MiB]