Google Plus First Look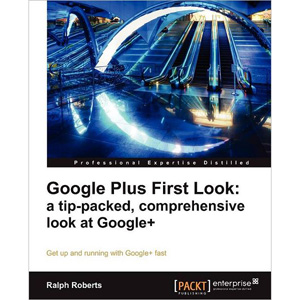 Start your social media experience afresh, having the most fun you possibly can sitting at a computer or holding your smart phone.
Whether restarting your social media participation from another network (doing it right and with a lot more control this time) or just jumping in for the first time, this book leads you triumphantly through Plus. Like Plus itself, the book is fun, exciting, and condenses everything you need for maximizing enjoyment in an easily readable format with tons of informative illustrations.
Google Plus First Look shows you how to join Plus and the kind of initial setup that guarantees a successful and fun-filled experience. The second chapter shows you Circles, Google's innovative bit of genius that has taken social networking to a new level of control over our own interactions. We'll see (and I do mean see) how Hangouts (video conferencing) works, and master Streams (where posts go), and Sparks (that jumpstart us posting). Sharing photos and video is the easiest you've ever seen, and you will see it in Chapter 5. Nor do you have to leave Plus at home, in Chapter 6 we take our social networking with us on our smartphones. Photos and videos upload automatically, ready for sharing. Finally, we learn how to promote things the right way, the polite way on Plus. This book serves as an indispensible reference to all that and more.
What you will learn from this book:
The basics of Plus
The easiest but most productive methods of coming up to speed on this fun-packed, powerful new kind of social network
Getting everyone in circles
Working with built-in video chat and related features
Using Google+ on your mobile
Promoting on Plus
Approach
Through over 100 books, mostly computer-related, the author has mastered a fun but information packed style that gives you exactly what you want — up to speed on Plus with minimal effort and maximum results.
Who this book is written for
Google+ or Plus (the terms are interchangeable) was written for everyone. This book mirrors that concept and is written for everyone — from us techheads (early adopters) to delightful old Aunt Mable and the rest of the Thursday Night Bridge Club. Because social networking exists for all people and we are all people — all of us are plusses on Plus.
Book Details
Paperback: 208 pages
Publisher: Packt Publishing (November 2011)
Language: English
ISBN-10: 1849685347
ISBN-13: 978-1849685344
Download [6.9 MiB]