Office 2013: The Missing Manual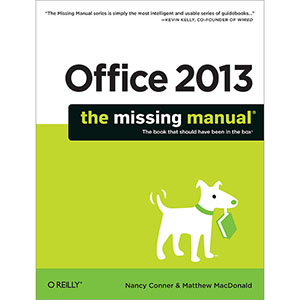 Microsoft Office is the most widely used productivity software in the world, but most people just know the basics. This helpful guide gets you started with the programs in Office 2013, and provides lots of power-user tips and tricks when you're ready for more. You'll learn about Office's new templates and themes, touchscreen features, and other advances, including Excel's Quick Analysis tool.
The important stuff you need to know:
Create professional-looking documents. Use Word to craft reports, newsletters, and brochures for the Web and desktop.
Stay organized. Set up Outlook to track your email, contacts, appointments, and tasks.
Work faster with Excel. Determine the best way to present your data with the new Quick Analysis tool.
Make inspiring presentations. Build PowerPoint slideshows with video and audio clips, charts and graphs, and animations.
Share your Access database. Design a custom database and let other people view it in their web browsers.
Get to know the whole suite. Use other handy Office tools: Publisher, OneNote, and a full range of Office Web Apps.
Create and share documents in the cloud. Upload and work with your Office files in Microsoft's SkyDrive.
Table of Contents
Part I: Using Office
Chapter 1. Using Office 2013's Common Features
Part II: Word
Chapter 2. Basic Word Processing
Chapter 3. Editing and Formatting
Chapter 4. Tables, Graphics, and Charts
Chapter 5. Proofing and Research Tools
Chapter 6. Printing Documents
Chapter 7. Reports and Long Documents
Chapter 8. Customizing Documents with Themes, Templates, and Macros
Chapter 9. Desktop and Web Publishing
Chapter 10. Sharing and Collaborating on Documents
Part III: Outlook
Chapter 11. Getting Started with Outlook
Chapter 12. Outlook's Address Book
Chapter 13. Getting Organized with Folders
Chapter 14. Getting Organized with Outlook's Calendar, Tasks, and Notes
Part IV: Excel
Chapter 15. Creating Your First Spreadsheet
Chapter 16. Moving Data
Chapter 17. Formatting Cells
Chapter 18. Building Basic Formulas
Chapter 19. Math and Statistical Functions
Chapter 20. Creating Basic Charts
Part V: PowerPoint
Chapter 21. Creating a Presentation
Chapter 22. Editing Slides
Chapter 23. Editing a Presentation
Chapter 24. Adding Multimedia and Movement
Chapter 25. It's Showtime! Giving a Presentation
Part VI: Access
Chapter 26. Creating Your First Database
Chapter 27. Building Smarter Tables
Chapter 28. Mastering the Datasheet: Sorting, Searching, and Filtering
Chapter 29. Linking Tables with Relationships
Part VII: Other Office Tools
Chapter 30. Publisher
Chapter 31. OneNote
Chapter 32. SkyDrive and Office Web Apps
Book Details
Paperback: 1050 pages
Publisher: O'Reilly Media / Pogue Press (May 2013)
Language: English
ISBN-10: 1449357083
ISBN-13: 978-1449357085
Download [81.8 MiB]