The iPad 2 Project Book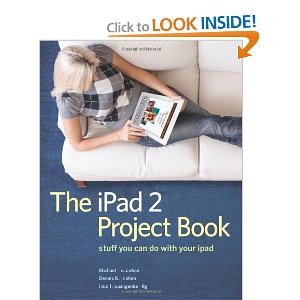 Bridging the gap between the palm-sized iPod touch and a full-sized computer, Apple's iPad 2 offers enough screen area and horsepower to perform the day-to-day tasks most people want to do. Packed with practical knowledge, this book will walk readers through how to manage their most common projects, from the simple (setting up a calendar event) to the complex (planning a vacation) and everything in between. Readers will learn to use the iPad 2 tools and applications by using them to create practical real-world projects and to master everyday tasks.
In this practical hands-on guide, you'll learn how to
Organize a party: Set up the calendar event, create invitations, invite attendees, and mail out the invites.
Build a recipe scrapbook: Write up recipes in Pages (or find recipes via one of the useful recipe apps) and import pictures of the finished dish to go with the recipe in the book. Even learn iPad kitchen tips!
Plan a vacation: Buy tickets, find destination activities, and map out directions.
Watch videos: Stream videos with Air Video, convert high-quality movies from DVDs, and buy or rent videos from the iTunes Store.
Get smart: Learn another language with one of the many translation apps available, and build an illustrated deck of flash cards with common words and phrases.
Plus many more useful projects—both big and small— to help you do stuff with your iPad.
Book Details
Paperback: 272 pages
Publisher: Peachpit Press (April 2011)
Language: English
ISBN-10: 0321775708
ISBN-13: 978-0321775702
Download [18.0 MiB]