Windows Phone 7 For Dummies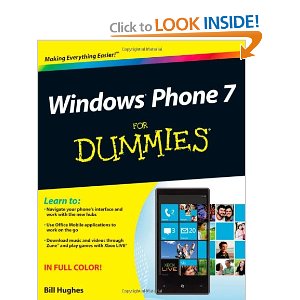 Unleash the full power of your Windows Phone 7!
Windows Phone 7 is the new and improved mobile platform for all Windows smartphones. The new platform has been completely rebuilt from the ground up and this guide walks you through everything that's new, from the look and feel to the underlying code to the revamped home screen and user interface experience. Placing special focus on the features and functionality that is shared across all Windows Phone 7 series models, this fun and friendly book covers a wide range of how-to topics on everything from making simple calls to using your handheld device as a mobile computer.
Explores the exciting new Windows Phone 7 and the completely revamped platform that will revolutionize the way you experience mobile phone use
Shows you how to personalize your interface and exchange and sync information with your Windows PC
Covers how to download, install, and use Mobile Office applications
Demonstrates creating, downloading, exchanging, and sharing digital media, such as photos, videos, sound, and music files with other mobile device and PC users
Windows Phone 7 For Dummies takes your Windows Phone 7 experience to a whole new level!
From the Back Cover
You have the smartest smartphone around — now learn how to make the most of it!
It's revolutionary, it does all sorts of new tricks, and it's friendlier with your PC than any other smartphone. You want to get all the functionality from your Windows Phone 7 that you paid for, so grab this book and learn how to use every feature! From the basics to playing games, music, video, and going online, here's what you need to know.
Meet Windows Phone — learn your way around the phone and find out what applications are included
The gang's all here — coordinate all your social networking contacts and facilitate communication with the People hub
Let's hear it — use your phone's Zune HD capabilities to get the most from music and video
X-citing gaming — play your favorite Xbox games, including multiplayer ones, and explore what's available on Xbox LIVE
Get down to business — take the Internet wherever you go and use Office Mobile apps including OneNote, Excel, Word, and PowerPoint
Open the book and find:
Why your Windows Live ID is essential
Cool things only your Windows Phone can do
How hubs help you
Tips on buying apps at the Marketplace
Multiplayer games for your phone
Hints for using the Windows Live photo gallery
Types of games available through Xbox LIVE
What you can do if your company uses SharePoint
Book Details
Paperback: 320 pages
Publisher: For Dummies (November, 2010)
Language: English
ISBN-10: 0470880112
ISBN-13: 978-0470880111
Download [18.3 MiB]