iPad Apps For Kids For Dummies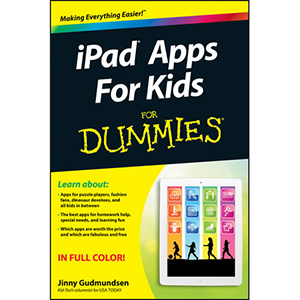 Get the scoop on the best kid-friendly apps iPad has to offer!
How do you find good apps for your children? Read iPad Apps For Kids For Dummies, that's how! With over a half-million apps in the App Store and that number growing, this great new guide cuts through the clutter and points parents in the direction of the best apps for kids of all ages. From apps for dinosaur lovers to fashion fans, puzzle masters to avid adventurers, and everything in between, you'll find apps to both educate and entertain. Which apps have strong girl role models? Which apps help kids with special needs? Which ones will keep the whole family entertained on the road? This handy, full-color book by tech-savvy, USA TODAY Kid-Tech columnist Jinny Gudmundsen covers it all.
Helps parents find the best of the best iPad apps for children of all ages in the crowded App Store
Shows parents which apps are worth the price and those that are free and fabulous
Demonstrates how to use an iPad to make learning fun, apps for kids with special needs, age-appropriate apps for each child's age, and how you can avoid in-app purchase mistakes
Draws on the experience and expertise of Kid-Tech columnist Jinny Gudmundsen, who has taken countless apps for a test run and shared her findings in USA TODAY and in Gannett newspapers nationwide; Jinny's work has also been published in the Los Angeles Times and Child magazine, and online at ABCNews.com, and she has appeared on national TV and radio
Don't waste anymore time plowing through the App Store for kid-friendly apps on your own! Get iPad Apps For Kids For Dummies today and get your kids excited about learning.
Table of Contents
Chapter 1. Using an iPad with Kids
Chapter 2. Age Collection: Toddlers
Chapter 3. Age Collection: Preschool
Chapter 4. Age Collection: Kindergarten
Chapter 5. Art
Chapter 6. Book Apps: For Younger Kids
Chapter 7. Book Apps: For Older Kids
Chapter 8. Cars, Trucks, and Things That Go Vroom
Chapter 9. Co-Op and Multiplayer
Chapter 10. Creativity, Storytelling, and Journaling
Chapter 11. Dinosaurs
Chapter 12. Games: Angry Birds & Other Popular Games
Chapter 13. Games: Great for Kids
Chapter 14. Girl Power: Heroines, Fashion, and Princesses
Chapter 15. Learning Apps: Language Arts
Chapter 16. Learning Apps: Math
Chapter 17. Learning Apps: Reference
Chapter 18. Learning Apps: Science
Chapter 19. Learning Apps: Social Studies
Chapter 20. Monsters & Aliens
Chapter 21. Music
Chapter 22. Puzzles
Chapter 23. Road Trip Apps
Chapter 24. Special Needs
Chapter 25. Toy Add-Ons
Chapter 26. Ten Favorite Free Apps for Kids
Chapter 27. Ten Favorite Kid Apps
Book Details
Paperback: 256 pages
Publisher: For Dummies (December 2012)
Language: English
ISBN-10: 1118433076
ISBN-13: 978-1118433072
Download [146.5 MiB]