Taking Your Kindle Fire to the Max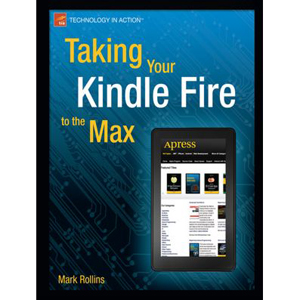 You've just purchased a Kindle Fire. How do you set it up? How do you secure it? What can you do with it? In Taking Your Kindle Fire to the Max, you'll learn how to set up email, social networking, videos, music, eBooks, contacts, calendar, and navigation.
Once you've discovered how to set up your accounts, check your email, and connect to the internet, you learn advanced moves that will make your Kindle Fire use similar to your laptop or desktop computing, granting you an unlimited mobile life.
What you'll learn
Enjoy watching videos, reading eBooks, and listening to movies with a Kindle Fire Tablet as your portable media center.
Explore the ways that a Kindle Fire will simplify your life with the Android Marketplace with games and other applications.
Learn to browse the Internet and manage your email on the cloud-accelerated Silk browser with greater speed.
Discuss the benefits of Amazon Prime Membership.
Use your Kindle Fire to organize your life as well as your Contacts, Calendar, and QuickOffice.
Never get lost again with Maps and Navigation on your Honeycomb Tablet touchscreen.
Who this book is for
People who are new to Android or tablets (or both) who want to get the most out of their new Kindle Fire, and discover what resources Amazon has available via the Kindle fire.
Table of Contents
So You Just Got a New Amazon Kindle Fire Tablet…Now What?
How to Put Your Data and Media on Your Tablet
Hardware on your Kindle Fire
Interacting with the Kindle Fire
Connecting to the Internet
The Silk Internet Browser
Music and Video on the Honeycomb Tablet
Shopping for Apps, Books, Music, and More
Managing Your Life with Your Tablet
Setting Up and Using Mail and Social Networking
Working with Maps
The Picture Viewer
Quickoffice
Uses for a Kindle Fire Tablet
Book Details
Paperback: 320 pages
Publisher: Apress (March 2012)
Language: English
ISBN-10: 1430242639
ISBN-13: 978-1430242635
Download [90.3 MiB]