Take Control of PDFpen 6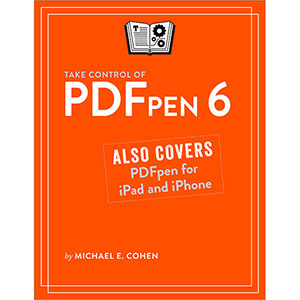 Learn to create, edit, and manipulate PDFs with Smile's PDFpen 6!
Have you ever needed to give feedback on a PDF, but stumbled around trying to insert comments and proofreading marks? Or spent way too long trying to refresh the date on a PDF-based flyer? Maybe you wanted to fill out and sign a PDF-based form without printing it and faxing it back? What about making your own PDF-based form with fill-in fields that could be submitted over the Internet? Or have you wished you could OCR scanned text so you could revise it right in the PDF? All these tasks–and much more–can be done with PDFpen from Smile.
Even better, there's an in-depth guide for all these tasks. Written by Michael E. Cohen with clarity and humor, Take Control of PDFpen 6 turns you into a PDF productivity powerhouse while you work at your desktop or laptop Mac with PDFpen or PDFpenPro, or on the go with your iPad or iPhone.
Michael begins with a rundown of your purchasing options: PDFpen versus PDFpenPro, from Smile versus the Mac App Store, and the advantages of an iPhone or iPad version.
Next, you'll meet PDFpen, starting with a general overview of the PDF format, followed by a tour of PDFpen's user interface–including the new Editing bar. Then Michael jumps into the many ways you can modify a PDF:
Add and remove pages, and combine pages from multiple files into one PDF.
Directly edit the text, plus add comments and professional editing marks.
Redact confidential text.
Add clickable page and URL links, add page numbers, and add images.
Make a clickable table of contents (PDFpenPro only).
Change the look with a Quartz filter (for example, make it black-and-white).
Reduce the file size with a Quartz filter.
Password-protect it.
Turn it into a formatted Microsoft Word document.
Prevent other users taking certain actions, such as printing or editing (PDFpenPro only).
You'll learn how PDFpen is your friend when it comes to forms:
Fill out forms with ease.
Add a handwritten signature–in the iOS versions, you can write with a stylus!
Print just form entries on a pre-printed form!
Create an interactive PDF form for both Mac and Windows (PDFpenPro only). You can even make your interactive PDF form collect data and send it to you via email or the Web.
And, that's not all! You'll also learn how to:
Move PDFs in and out of PDFpen in iOS, so that you can fluidly share them between your Apple devices–Michael describes several approaches, including iCloud, iTunes, Dropbox, and Open In.
Get the most out of Apple's AutoSave and Versions features–or turn them off for PDFpen if you find them troublesome.
Scan a document to PDF, and make the text editable with OCR.
Print a PDF with its annotations appearing at the end.
Store frequently used items (like a logo or signature) in the PDFpen Library.
Turn a Web site into a multi-page PDF (PDFpenPro only).
An appendix describes the many useful AppleScripts that ship with PDFpen.
This ebook was created in collaboration with Smile, with PDFpen's developers tech editing the manuscript.
Book Details
Paperback: 177 pages
Publisher: TidBITS Publishing, Inc. (May 2013)
Language: English
ISBN-10: 1615424202
ISBN-13: 978-1615424207
Download [6.1 MiB]