StumbleUpon For Dummies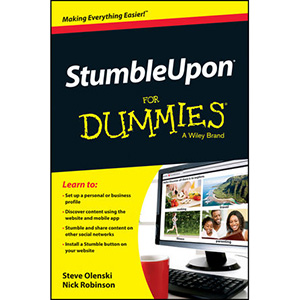 Discover new and interesting online content based on your interests!
StumbleUpon helps you discover new and interesting content on the Internet based on your specific interests. With this helpful For Dummies guide, you will learn to complete a profile that alerts StumbleUpon what topics interest you and assists in making your online perusing interesting and productive. Coverage explains how the Stumble button allows StumbleUpon to learn more about you and what type of content you like to view and it also helps that particular piece of content turn up higher in other users' searches.
Gets you started with setting up a profile, using the site and mobile app, and installing the browser
Offers guidance for Stumbling and sharing content on other social networks
Explains how to create a channel and use Paid Discovery
Shows you how to install a Stumble button on your site to encourage people to Stumble your content
With StumbleUpon For Dummies, you've stumbled upon the ideal guide to get you started with this exciting engine!
Table of Contents
Chapter 1. Getting Started on StumbleUpon
Chapter 2. Using StumbleUpon on the Internet
Chapter 3. Using the StumbleBar Toolbar
Chapter 4. Using StumbleUpon on Your iPhone or iPad
Chapter 5. Using StumbleUpon on Your Android Phone, Tablet, NOOK, or Kindle Fire
Chapter 6. Using StumbleUpon in Windows 8
Chapter 7. Sharing Your Discoveries and Content
Chapter 8. Navigating the Recommended, Activity, Trending, and Lists Sections
Chapter 9. Using the Paid Discovery Advertising System
Chapter 10. Using StumbleUpon to Generate Traffic to Your Blog or Website
Chapter 11. Understanding StumbleUpon Etiquette
Chapter 12. 10 Tips and Tricks from Power Users
Book Details
Paperback: 240 pages
Publisher: For Dummies (June 2013)
Language: English
ISBN-10: 1118505336
ISBN-13: 978-1118505335
Download [45.3 MiB]