The Mac OS X Lion Project Book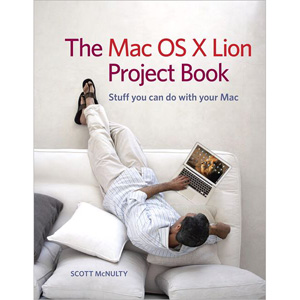 The power of Lion, at your fingertips. With the new Multi-Touch gestures in Mac OS X Lion, you can swipe, pinch, and tap your way to managing your Mac and organizing your life. Want your pictures to stand out? Grab files off the Mac at home while on the road? Tune out distractions? In this practical hands-on guide to Mac OS X Lion, you learn how to
Throw away your DVDs: Encode an entire season of your favorite TV shows and manage the episodes from iTunes.
Stay in touch: Have a video chat with far-off friends with iChat Theatre.
Captivate your audience: Make a vacation slideshow that doesn't stink.
Keep your relatives informed: Build a family website with RapidWeaver.
Survive the crash: Create an easy and comprehensive backup plan to secure your personal photos, movies, music, and more.
Express yourself: Write and record podcasts worth listening to.
Plus many more useful projects—both big and small—to help you do stuff with Mac OS X Lion.
Table of Contents
Chapter 1 Managing Your Mac
Chapter 2 Interacting from a Distance
Chapter 3 Managing Media
Chapter 4 Making Magic
Chapter 5 Getting Productive
Chapter 6 Additional Hardware Required
Book Details
Paperback: 240 pages
Publisher: Peachpit Press (August 2011)
Language: English
ISBN-10: 0321788516
ISBN-13: 978-0321788511
Download [36.5 MiB]