Strobist Photo Trade Secrets, Volume 2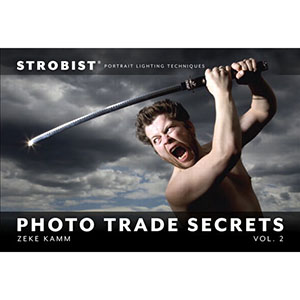 Strobist Photo Trade Secrets volumes one and two are all about giving you the inspiration and tools to help make your photographs the best they can be. It doesn't take hundreds of pages of instructions or piles of complicated theories to take great photographs. Photo Trade Secrets uses microlessons–each with a simple-to-understand diagram, tips, and a clear description accompanying an inspiring image–so you can spend less time reading and more time shooting. Photo Trade Secrets postcard books are high-quality trade paperbacks, with perforated pages of thick card stock–so you can simply tear them out and take individual microlessons with you when you shoot.
Whether you duplicate the photos in the book or use the techniques as a take-off point for creating your own dynamic family photos, killer commercial shots, or eye-catching masterworks, you'll find Photo Trade Secrets to be the fastest, most fun and effective way to take your photography to the next level.
Grab your Photo Trade Secrets and get out there and shoot!
Review
"Want to improve your photography? Then learn to see and control light. I wish Trade Secret Cards had been around when I was working my way up. This set is a virtual classroom that you can carry with you. There is no faster or easier way to learn how to light than this. Each card presents an image that will inspire you to get out and shoot, along with clear, simple-to-follow diagrams and instructions. Want a lighting genie? Try rubbing this collection of Photo Trade Secrets and see what happens."
—Syl Arena, Editor, Speedliting.com
Book Details
Paperback: 54 pages
Publisher: Peachpit Press (December 2010)
Language: English
ISBN-10: 0321752880
ISBN-13: 978-0321752888
Download [3.3 MiB]