Data Protection for Photographers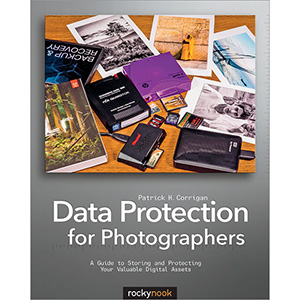 All photographers, both amateur and professional, are faced with the important issues of data protection and storage. Without knowledge of the options, tools, and procedures for safe and effective image protection and storage, photographers run the serious risk of losing their image files. This book offers critical information about the best hardware, software, procedures, and practices for capturing, storing, and preserving images and other data.
This book explains current data protection and storage technologies in everyday terms. It describes effective procedures for protecting data, from capture to backup and archiving. Descriptions of specific products applicable to Windows, MacOS, and Linux systems are provided.
Table of Contents
Chapter 1. Image Capture Media
Chapter 2. Interfaces
Chapter 3. Storage Technologies
Chapter 4. Image Ingestion and Organization
Chapter 5. Primary Data Storage
Chapter 6. Backup and Archiving
Chapter 7. Recovery
Chapter 8. Power
Chapter 9. Odds and Ends
Book Details
Paperback: 176 pages
Publisher: Rocky Nook (February 2014)
Language: English
ISBN-10: 1937538222
ISBN-13: 978-1937538224
Download [28.4 MiB]