Outlook 2013 For Dummies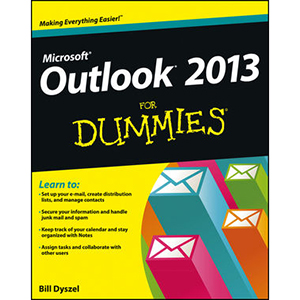 The fun and friendly way to manage your busy life with the new Outlook 2013
As the number one e-mail client and personal information manager, Microsoft Outlook offers a set of uncomplicated features that maximize the management of your e-mail, schedule, and general daily activities, with the least amount of hassle possible. This easy-to-understand guide walks you through Outlook 2013 and introduces you to the latest features. You'll learn how to find information quickly, handle e-mail, coordinate schedules, keep current with contacts and social networks, and much more.
Walks you through getting started with Outlook 2013 and then provides you with complete coverage on e-mail basics, advanced e-mail features, working with the calendar, managing contacts, and integrating Outlook with other applications
Shows you how to track tasks, take notes, and record items in the journal, as well as filter out junk e-mail, activate Outlook's privacy and security features, and more
Explains how to customize your Outlook, manage all the information within Outlook, and take Outlook on the road
Outlook 2013 For Dummies offers you a whole new outlook on Outlook 2013!
From the Back Cover
Learn to:
Set up your e-mail, create distribution lists, and manage contacts
Secure your information and handle junk mail and spam
Keep track of your calendar and stay organized with Notes
Assign tasks and collaborate with other users
Outlook is much more than e-mail! Learn all the ways it will improve your day
Do you organize meetings? Collaborate on projects? Occasionally forget appointments? Outlook was made for you! This book shows you not only how to use Outlook 2013, but why you should. Tap into the full power of Outlook and learn how it can sort your e-mail, manage your contacts, remind you of appointments, and help you work together with others.
First, the basics — tour Outlook's basic features and learn to send and receive e-mail, make notes, keep appointments, and organize files
Tame your e-mail — let Outlook handle formatting, filter junk mail, and automatically sort your messages
Outlook and the Office — take advantage of Outlook's close relationship with other Office applications
Calling all contacts — enter your contacts and let Outlook arrange them and create groups
Today's to-do — use Outlook to manage your task list and keep your calendar up to date
Get social — subscribe to blogs and podcasts and add Facebook or LinkedIn connections
For meeting mavens — organize meetings, create and view multiple calendars, send status reports, collaborate on projects, and link Outlook to SharePoint
On the go — access Outlook from anywhere using Web Access
Open the book and find:
How Outlook can be your personal information manager
Outlook's unique relationship with other Microsoft applications
The advantages of virtual sticky notes
Cool collaboration techniques
Quick steps that simplify certain tasks
Tips on keeping records with Journals and Notes
How Outlook works with SharePoint Team Services
Ten things Outlook doesn't do
Book Details
Paperback: 384 pages
Publisher: For Dummies (February 2013)
Language: English
ISBN-10: 1118490460
ISBN-13: 978-1118490464
Download [25.6 MiB]