Mastering Prezi for Business Presentations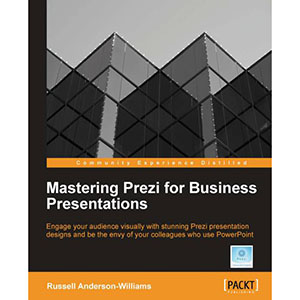 Prezi is a tool for delivering presentations in a linear or non-linear format. This cloud-based software enables users to structure presentations on an infinite canvass in a way that is much more engaging and visually stimulating to the audience.
"Mastering Prezi for Business Presentations" is a must read for anyone already using Prezi who wants to take their presentations to the next level. It covers all of the technical elements of the software, whilst also looking at the practicalities of using Prezi in a business environment.
This book covers all the technical elements of Prezi and also teaches the reader how to think for Prezi, and approach their design in the best way. This is an essential resource for people who want to use Prezi seriously.
As well as covering best practices for inserting imagery, sound, and video, this book also covers topics for business users like collaborating and sharing Prezis online, using Prezi at a meeting to brain storm with overseas colleagues, and how to 'Prezify' PowerPoint or Keynote slides.
"Mastering Prezi for Business Presentations" will escalate you from Prezi user to master with ease.
What you will learn from this book
Learn to insert sounds into your Prezis for narration or for use in online delivery
Learn the difference between Raster and Vector imagery to optimize your Prezi design
Practice the three Prezi design steps so that you approach and build your Prezi as best you can
Design Prezis for use online without a presenter guiding the audience
Set up Prezi meetings for brain storming with overseas colleagues
Turn company slides into non-linear Prezi presentations
Know when it is right to use video, and how to format and convert video for use in Prezi
Create non-linear interactive Prezis that your audience controls
Approach
Accompanied by plenty of tips and tricks, this tutorial style book has ample examples and screenshots to ease your learning curve.
Who this book is written for
If you use Prezi in business and want to take your presentations to the next level, or if you want to become the office Prezi guru, this book is for you.
Book Details
Paperback: 258 pages
Publisher: Packt Publishing (July 2012)
Language: English
ISBN-10: 1849693021
ISBN-13: 978-1849693028
Download [32.4 MiB]