Take Control of Your Online Privacy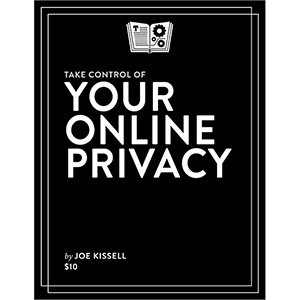 Learn what's private online (not much)–and what to do about it!
Do you have anything to hide? Whether or not you think you do, your online activities are certainly tracked — and not just by well-meaning sites who want to keep you logged in or by marketing firms who want to show you targeted ads for products that you likely want to buy.
In the full book, Joe helps you gain perspective on what is reasonable to expect about online privacy and develop a sensible online privacy strategy, customized for your needs. He then explains how to enhance the privacy of your Internet connection, Web browsing, email messages, online chatting, social media interactions, and file sharing. To bring home the most important privacy no-nos, Joe also encourages you to take The Pledge (OK, it's tongue-in-cheek, though it would have saved numerous politicians from ridicule and career-ending gaffes). Plus, parents will find important riinders about how your online actions can affect your children, far into the future.
Whether you have a Mac or PC, iOS or Android device, set-top box, cell phone, or some other network-enabled gadget, Take Control of Your Online Privacy has the advice that ordinary people need to handle common privacy needs (secret agents should really look elsewhere). You'll receive savvy advice about:
Why worry? Learn about who wants your private data, and, more important, why they want it. Even if you don't believe you have anything to hide, you almost certainly do, in the right context. Would you give just anyone your financial records or medical history? Didn't think so.
Set your privacy meter: Develop your own set of personal privacy rules — everyone has different privacy buttons, and it's important to figure out which are important to you.
Manage your Internet connection: Understand privacy risks, prevent snoops, and take key precautions to keep your data from leaking out.
Browse and search the Web: Learn what information is revealed about you when you use the Web. Avoid bogus Web sites, connect securely where possible, control your cookies and history, block ads, browse and search anonymously, and find out who is tracking you. Also, learn how to protect your passwords and credit card data.
Send and receive email: Find out how your email could be intercepted, consider when you want email to be extra private (such as when communicating with a doctor or lawyer), find out why Joe doesn't recommend email encryption as a solution to ordinary privacy needs (but find pointers for how to get started if you want to try it — or just encrypt an attachment, which is easier), get tips for sending email anonymously, and read ideas for alternatives to email.
Talk and chat online: Consider to what extent any phone call, text message, or online chat is private and find tips for enhancing your privacy when using these channels.
Watch your social media sharing: Social media is by definition social, so there's a limit to how private it can be. Understand the risks and benefits of sharing personal information online, tweak your settings, and consider common-sense precautions.
Share files: What if you want to share (or collaborate on) a contract, form, or other document that contains confidential or personal information? Find out about the best ways to share files via file server, email attachment, cloud-based file sharing service, peer-to-peer file sharing, or private cloud.
Help your children: As a parent, you know a lot about your children and you have access to lots of photos of thi. But that doesn't mean you should share everything without a thought to your children's privacy needs, either now or in the future, since data never disappears from the Internet. Find a few key tips to keep in mind before you tell all.
If I don't live in the United States, does this book pertain to me?
Many of the examples in this book are taken from the United States. Although laws and policies vary from country to country, nearly everything in this book is applicable in some fashion to anyone in the world.
I am a journalist and need to protect my sources. Plus, I think a few governments are tracking my movements. Will this ebook help me to ensure my privacy?
This book could be a good start if you are unfamiliar with these matters, but it does not have the depth of technical detail that you require. The intention of this ebook is to help ordinary people address ordinary privacy concerns, within the scope of a short book.
Book Details
Paperback: 118 pages
Publisher: TidBITS Publishing, Inc. (September 2013)
Language: English
ISBN-10: 1615424253
ISBN-13: 978-1615424252
Download [4.6 MiB]