Getting Started with Oracle Hyperion Planning 11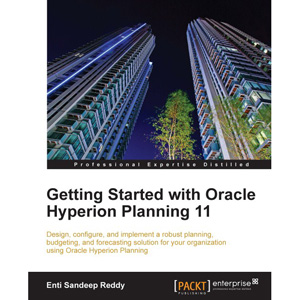 Oracle Hyperion Planning is one of the many products in the Oracle Enterprise Performance Management software suite, an industry-leading Business Intelligence software package. The primary focus of the Hyperion Planning product is to provide a planning, budgeting, and forecasting solution that helps you manage and coordinate all your business planning and budgeting needs.
This book is a practical guide to implementing a Hyperion Planning solution in your organization, which addresses all your planning, budgeting, and forecasting needs.
You will begin with the installation of Hyperion Planning and then design Planning applications as per some example user requirements. You will then learn to create the planning objects. The book moves on to explaining important concepts within Hyperion Planning such as data forms, task lists, business rules, validation rules, and workflows, with the help of many real-world examples to maximize your learning. Towards the end of the book, you will cover user provisioning and access rights and budget process management.
A practical guide to implementing Oracle Hyperion Planning for managing all your business planning and budgeting needs
What you will learn from this book :
Install and Configure Oracle Hyperion Planning along with complementing Oracle EPM products
Understand Budget Process Management and learn how to create workflows
Master metadata management
Create data forms and data validation rules
Create business rules and task lists
Manage security in Oracle Hyperion Planning
Manage your users by mastering user provisioning and access rights
Approach
This book follows a tutorial-based approach that will provide you with step-by-step instructions to configure and implement a robust planning, budgeting, and forecasting solution. Each chapter provides clear instructions and detailed screenshots, as you approach a new facet of the Hyperion Planning environment.
Who this book is written for
If you want to successfully implement Oracle Hyperion Planning solutions, then this book is for you. Familiarity with Oracle Essbase and OLAP would be beneficial but is not essential.
While the book is intended for beginners, even experienced Planning developers and users will benefit from this book.
Book Details
Paperback: 620 pages
Publisher: Packt Publishing (September 2011)
Language: English
ISBN-10: 1849681384
ISBN-13: 978-1849681384
Download [13.3 MiB]