Microsoft Office 2010 QuickSteps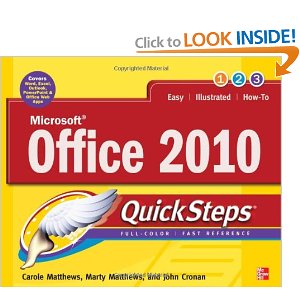 Step-by-Step, Full-Color Graphics!
Start using Office 2010 right away–the QuickSteps way. Color screenshots and clear instructions make it easy to ramp up the latest release of Microsoft's powerful productivity suite. Follow along and quickly learn how to create Word documents; build Excel spreadsheets; manage Outlook email, contacts, and schedules; design PowerPoint presentations; and use Office Web Apps. Get up to speed on Office 2010 in no time with help from this practical, fast-paced guide.
Use these handy guideposts:
Shortcuts for accomplishing common tasks
Need-to-know facts in concise narrative
Helpful reminders or alternate ways of doing things
Bonus information related to the topic being covered
Errors and pitfalls to avoid
Book Details
Paperback: 368 pages
Publisher: McGraw-Hill (July, 2010)
Language: English
ISBN-10: 0071741607
ISBN-13: 978-0071741606
Download [15.6 MiB]