Oracle JD Edwards EnterpriseOne 9.0: Supply Chain Management Cookbook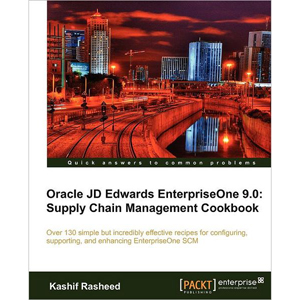 Oracle's JD Edwards Enterprise One Supply Chain Management (SCM) aids your business in enhancing your interactions with enterprise suppliers, and this practical cookbook provides essential implementation sequences to make the most of the suite. The functionality across the application described in this comprehensive guide allows you to be proactive in reacting to real-time information and developing procurement strategies and best practices.
"Oracle JD Edwards EnterpriseOne 9.0: Supply Chain Management Cookbook" explains with step by step instructions how to fully implement the EnterpriseOne Supply Chain suite, set up Inventory Management, Procurement Management and Sales Order Management, and much more. Each chapter will provide you the details of setup-related information, and instructions which will direct you in configuring your company's business processes.
This business-ready cookbook provides you with all the instructions you need to set up the SCM application, and utilize it based on your company's individual business requirements. It begins by demonstrating how to review inventory quantity information and perform physical inventory through cycle count and tag count, and later moves onto how to configure the interactive application, and how to set up the batch versions.
Along the way it will also cover the item master information, classification, AAI setup, and system integration. Ultimately, "Oracle JD Edwards EnterpriseOne 9.0: Supply Chain Management Cookbook" will equip you with the knowledge to configure and take advantage of the entire SCM system.
What you will learn from this book
Kick start your learning by setting up Inventory Management and Procurement Management
Master the basics like order approvals, invoicing, and updating price information
Tackle a number of options for setting up special orders, such as requisition orders and blanket orders
Learn how to run End of Day processes
Gain a comprehensive overview of Sales Order Management and understand Additional Sales Orders
Get to grips with table structures and prepare the table schema mapping document for data migration
Take advantage of and learn from a real-world case study of a Supply Chain business blueprint
Approach
A cookbook full of practical and immediately useable recipes for real world business implementation of EnterpriseOne Supply Chain Management.
Who this book is for
If you are a functional consultant, technical consultant/developer, or project manager and want to improve your business perspective of EnterpriseOne SCM, this book is for you.
You should have basic knowledge of navigating EnterpriseOne and general supply chain familiarity. Knowledge of the Common Foundation JDE 9.0 module is advantageous; the supply chain business domain knowledge will be an add-on to this.
Book Details
Paperback: 370 pages
Publisher: Packt Publishing (March 2012)
Language: English
ISBN-10: 1849681961
ISBN-13: 978-1849681964
Download [17.6 MiB]