The Changing Role of the CIO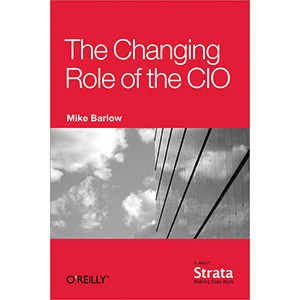 Does Big Data represent an existential threat to CIOs? Yes, quite possibly. For the past three decades, corporate CIOs have served primarily as stewards and guardians of IT infrastructure. Big Data — together with cloud, social and mobile computing — throws the value of legacy IT infrastructure into question and undermines the traditional authority of CIOs over the systems they have championed. For corporate CIOs, getting comfortable with Big Data will require reaching beyond the traditional comfort zone of IT and learning a new language that combines business, math and behavioral science, with signficantly less emphasis on traditional infrastructure technology than in the past. Will CIOs be ready and willing to make the leap?
About the Author
Mike Barlow is an award-winning journalist, author and communications strategy consultant. Since launching his own firm, Cumulus Partners, he has represented major organizations in numerous industries.
Mike is coauthor of The Executive's Guide to Enterprise Social Media Strategy (Wiley, 2011) and Partnering with the CIO: The Future of IT Sales Seen Through the Eyes of Key Decision Makers (Wiley, 2007).
He is also the writer of many articles, reports, and white papers on marketing strategy, marketing automation, customer intelligence, business performance management, collaborative social networking, cloud computing, and big data analytics.
Over the course of a long career, Mike was a reporter and editor at several respected suburban daily newspapers, including The Journal News and the Stamford Advocate. His feature stories and columns appeared regularly in The Los Angeles Times, Chicago Tribune, Miami Herald, Newsday and other major U.S. dailies.
Book Details
Paperback: 22 pages
Publisher: O'Reilly Media (November 2013)
Language: English
ISBN-10: 1449373119
ISBN-13: 978-1449373115
Download [3.5 MiB]