Access 2013 For Dummies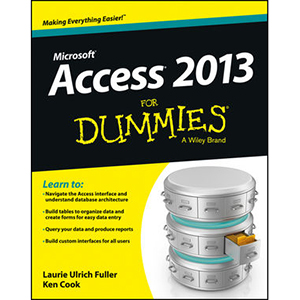 The easy guide to Microsoft Access returns with updates on the latest version!
Microsoft Access allows you to store, organize, view, analyze, and share data; the new Access 2013 release enables you to build even more powerful, custom database solutions that integrate with the web and enterprise data sources. Access 2013 For Dummies covers all the new features of the latest version of Accessand serves as an ideal reference, combining the latest Access features with the basics of building usable databases. You'll learn how to create an app from the Welcome screen, get support for your desktop databases, and much more.
Includes coverage of all the new features of Access 2013, including the updated interface
Shows you how to create and share reports
Features special videos and materials created by the authors to help reinforce the lessons included in the book
Helps you build data analysis and interface tools for your specific needs
Offers plenty of techniques and tips for solving common problems
Access 2013 For Dummies provides you with access to the latest version of this database tool.
From the Back Cover
Learn to:
Navigate the Access interface and understand database architecture
Build tables to organize data and create forms for easy data entry
Query your data and produce reports
Build custom interfaces for all users
Drowning in data? Manage it all and make it useful with the tools in Access 2013
You need Access. You need it to organize your data, produce reports that make you look like a genius, create forms that enable your staff to enter and manage more data, and find the significant drop of data you're looking for in that huge pool of information. This book is the key that unlocks the Access magic — read on, and access the power!
Essential Access — learn what Access can do, navigate the workspace and new features, and master the lingo
Begin building — plan your database, decide how to structure it and what to store, explore templates, and build tables
Share data — reduce data-entry errors by bringing content into your database from text files and Excel
Web publishing — add hyperlinks to your database and publish data online
Info, please — use the Find, Sort, and Filter commands to locate the information you need quickly
Rave reports — create quick one-table or multi-table reports, and learn to spruce up the work with the Report Wizard
Analyze this — explore Analyzer tools that help document your database and fine-tune its performance
Open the book and find:
Advice on building a new database
The difference between flat-file and relational databases
A review of new features
Ways to repurpose reports and forms
How Access works with the web
Guidance on finding, filtering, and sorting data
Directions for creating mass mailings from Access
Ten tips for Access success
Book Details
Paperback: 456 pages
Publisher: For Dummies (April 2013)
Language: English
ISBN-10: 1118516389
ISBN-13: 978-1118516386
Download [29.9 MiB]