Mac OS X Lion Simplified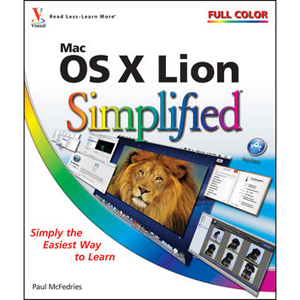 Simply the easiest way for visual learners to get up and running with Mac OS X LionOS X Lion is the latest version of the Mac desktop operating system, offering cool new features for more than 25 million Mac OS X users. For visual learners who are switching to a Mac, upgrading from an earlier OS, or just getting started with computers, Mac OS X Lion Simplified provides all the necessary information in the simplest way possible. Task-based spreads provide step-by-step instructions with full color illustrations that show exactly how to accomplish a wide variety of tasks with Mac OS X Lion.
Looks at Mac OS X Lion, the latest Mac desktop operating system that features support for the new multi-touch trackpad and other enhancements
Offers visual learners the easiest way to get going with Mac OS X Lion, using step-by-step instructions illustrated with full-color screen shots that show exactly what each step looks like
Explains how to use the new trackpad, customize the desktop, work with files and folders, and use the latest versions of iPhoto and iMovie
For those who learn best when they see exactly how something is done, Mac OS X Lion Simplified is the quickest and easiest way to get up and running on Mac OS X Lion.
From the Back Cover
Are you new to computers? Does new technology make you nervous? Relax! You're holding in your hands the easiest guide ever to Mac OS X Lion — a book that skips the long-winded explanations and shows you how things work. All you have to do is open the book and discover just how easy it is to get up to speed.
Start applications and switch between them
Open, edit, save, and print documents
Surf the web with Safari and use Apple Mail
Buy and play music and sync with other devices
View and edit photos and play or create videos
Customize, maintain, and troubleshoot OS X
Simply the Easiest Way to Learn
"Simplify It" sidebars offer real-world advice
Succinct explanations walk you through step by step
Full-color screen shots demonstrate each task
Self-contained, two-page lessons make learning a snap
Book Details
Paperback: 256 pages
Publisher: Wiley (August 2011)
Language: English
ISBN-10: 1118022408
ISBN-13: 978-1118022405
Download [30.6 MiB]