OS X Mountain Lion Server For Dummies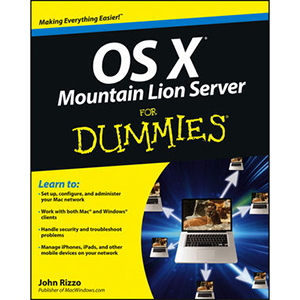 Create a Mac network in your home or office
There's no doubt about it: Macs, iPhones, and iPads have invaded the workplace. But, you don't need an IT department to administer a Mac network in your home or business. This friendly guide explains everything you need to know to set one up yourself using OS X Mountain Lion Server. First, you'll find an easy, quick-start way to implement OS X Mountain Lion on a Mac Mini. From there, you'll learn how to set up DNS, iCal Server, Podcast Producer, Wiki Server, file sharing, mail services, and more. This book helps you set up profile support for your iPhone and iPad and provides ways to configure iCloud in the home or office to keep your business data safe.
Explains how to set up, secure, and troubleshoot a Mac network with OS X Mountain Lion Server
Covers how to configure the server as well as DNS, iCal Server, Podcast Producer, Wiki Server, Spotlight Server, iChat Server, File Sharing, and Mail Services
Shows Windows administrators how to easily incorporate Macs into their network
Also covers support for iOS devices and ways you can use iCloud to keep your data secure when you hit the road for business travel
Take control of your network and make administering it a snap with OS X Mountain Lion Server For Dummies.
From the Back Cover
Let Mountain Lion loose on your network! Unleash its power with help from this OS X guide
OS X Mountain Lion Server is the easy way to tame your network. Whether you're working with both Macs and PCs or are adding iPhones, iPads, and other mobile devices to the mix, this book shows you what Mountain Lion Server can do, how to get it up and running, and how to set up all the features and harness the power of Mountain Lion Server to run in your home or office.
Start here — choose the best Mac model for your server and get step-by-step instructions for installing Mountain Lion Server
Directory directions — set up user directories to automate security and simplify maintenance
Make friends with Windows — see how connecting the Macs on your network to Active Directory facilitates a happy Mac/Windows relationship
All about control — manage permissions for access to files and folders
Let's talk — get computers, iPhones, and iPads collaborating with Contacts Server and Calendar Server
More ways to communicate — set up servers for e-mail, instant messaging, conferencing, and more
Keep clients happy — manage iOS and Mac accounts and secure your server
Keep the cat happy — maintain your server with monitoring tools and Software Update Server
Open the book and find:
Why even a small network benefits from a server
Both simple and advanced setup instructions
How to integrate Open Directory with Active Directory®
Troubleshooting tips
Advice on hosting websites and wikis
Recommendations for a password policy
OS X Server's monitoring tools
Ten cool additions to Mountain Lion Server
Learn to:
Set up, configure, and administer your Mac network
Work with both Mac® and Windows® clients
Handle security and troubleshoot problems
Manage iPhones, iPads, and other mobile devices on your network
Book Details
Paperback: 408 pages
Publisher: For Dummies (October 2012)
Language: English
ISBN-10: 1118408292
ISBN-13: 978-1118408292
Download [23.5 MiB]