Kindle Fire: The Missing Manual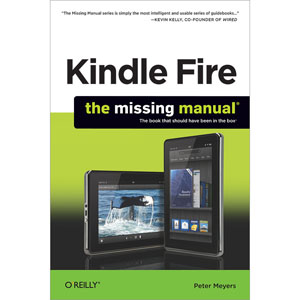 Enter a bright new world of entertainment with Amazon's red hot tablet. This guide lights the way with lots of illustrations and step-by-step instructions for browsing the Web, emailing, playing games, and viewing books, movies, and magazines in blazing color. Learn how to manage your media library on the Fire and in the cloud—and where to find the coolest apps. Everything you need is right here.
The important stuff you need to know:
Read all about it. Find, load, and read a variety of ebooks, magazines, and newspapers.
Go online. Browse the Web and manage email with a secure Wi-Fi connection.
Put on a show. Watch movies and TV series, and showcase your photos and videos.
Fill up your jukebox. Listen to your favorite music from Amazon and iTunes.
Load up on apps. Get popular games, guides, references, and more with Amazon's Apps for Android.
Take your briefcase. Read PDFs, Word files, Excel spreadsheets, and other docs.
Table of Contents
Part I: Getting Started and Reading
Chapter 1. Out of the Box: Setting Up, Taking a Tour
Chapter 2. Reading Books
Chapter 3. The Newsstand
Chapter 4. Documents and Spreadsheets
Part II: Watching and Listening
Chapter 5. Watching TV and Movies
Chapter 6. Photos and Home Videos
Chapter 7. Listening to Music
Part III: Communications and Browsing
Chapter 8. Email and Address Book
Chapter 9. Browsing the Web
Part IV: Kindle in Appland
Chapter 10. Playing Games
Chapter 11. Creative Corner
Chapter 12. Managing Time, Tasks, and Travel
Part V: Appendixes
Appendix. Settings
Appendix. Troubleshooting and Maintenance
Book Details
Paperback: 280 pages
Publisher: Pogue Press (February 2012)
Language: English
ISBN-10: 1449316271
ISBN-13: 978-1449316273
Download [43.3 MiB]