iWork: The Missing Manual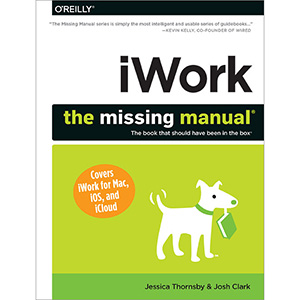 Apple's iWork is more versatile than ever now that there are versions for Mac, iOS, and even iCloud. The only thing iWork doesn't include is its own how-to guide. That's where this friendly, jargon-free Missing Manual comes in. With complete instructions and helpful examples, you'll quickly learn how to create stunning documents, slideshows, and spreadsheets with iWork's Pages, Keynote, and Numbers.
The important stuff you need to know:
Create elegant files in minutes. Save tons of time by using iWork's collection of prebuilt templates and themes.
Craft a variety of documents. Use Pages to design attractive newsletters, catalogs, brochures, flyers, and posters.
Build eye-popping presentations. Turn Keynote's themes and easy-to-use cinematic effects into beautiful custom slideshows.
Organize and clearly convey information. Jazz up your Numbers spreadsheets with charts, images, and videos.
Always have your work on hand. Store your files in iCloud and have them sync automatically to your Mac and iOS devices.
Work anywhere, any time. Use the web-based iWork for iCloud to create projects on any computer—even a PC.
Versions covered:
This edition covers Pages for Mac 5.1, Keynote for Mac 6.1, Numbers for Mac 3.1, version 2.1 of each iOS app, and iWork for iCloud.
Table of Contents
Part 1: Pages for Mac
Chapter 1. Creating a Pages Document
Chapter 2. Editing Text in Pages
Chapter 3. Creating and Using Styles
Chapter 4. Typo-Busting Power Tools
Chapter 5. Formatting and Organizing Documents
Chapter 6. Beyond Text: Laying Out Documents
Chapter 7. Objects Up Close: Adding, Modifying, and More
Chapter 8. Building Tables and Charts
Chapter 9. Sharing Pages Documents
Chapter 10. Creating Templates to Streamline Projects
Part 2: Keynote for Mac
Chapter 11. Creating a Keynote Slideshow
Chapter 12. Laying Out Slides
Chapter 13. Animating Slides
Chapter 14. Sharing Your Slideshows
Chapter 15. Customizing Keynote Themes
Part 3: Numbers for Mac
Chapter 16. Creating a Numbers Spreadsheet
Chapter 17. Editing Tables in Numbers
Chapter 18. Organizing Tables in Numbers
Chapter 19. Using Formulas
Chapter 20. Advanced Data Crunching with Functions
Chapter 21. Charts: Giving Shape to Data
Chapter 22. Designing Your Spreadsheet Report
Chapter 23. Sharing Your Spreadsheets
Part 4: iWork for iOS
Chapter 24. Pages for iOS
Chapter 25. Keynote for iOS
Chapter 26. Numbers for iOS
Part 5: iWork for iCloud
Chapter 27. An Intro to iCloud
Chapter 28. Pages for iCloud
Chapter 29. Keynote for iCloud
Chapter 30. Numbers for iCloud
Part 6: Appendix
Appendix A. Installing and Upgrading iWork
Book Details
Paperback: 864 pages
Publisher: O'Reilly Media (March 2014)
Language: English
ISBN-10: 1449393314
ISBN-13: 978-1449393311
Download [67.2 MiB]