Take Control of LaunchBar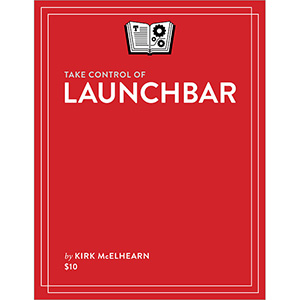 Let LaunchBar's superpowers save you from a lifetime of Mac drudgery!
Join Mac expert Kirk McElhearn, and learn how to use LaunchBar, from Objective Development, to carry out nearly any Mac task more efficiently. To help you develop a mental map of all that LaunchBar can do, Kirk explains LaunchBar in the context of its five superpowers — key LaunchBar techniques that no Mac user should be without!
Abbreviation search. The primary way you select things in LaunchBar is by typing a few letters associated with the item you want to find. LaunchBar is smart (so the abbreviation doesn't have to be obvious) and learns from what you type (in case it guessed wrong the first time).
Browsing. Sometimes you don't know what you want until you see it. Abbreviation search won't help there, but you can browse folders, recent documents for an app, clipboard history, snippets, and more.
Sub-search. Too many results in a list to browse? Try a sub-search, which is an abbreviation search limited to a list of search results.
Send To. Want to open a PDF in PDFpen rather than Preview? Or attach a document to a new email message? You can send anything on LaunchBar's bar to another application, folder, action, or service.
Instant Send. For those who want to save the most time, Instant Send is the fastest way to put a selected file or bit of text on the bar, ready to open in another app, move to a folder, send to a Google search, look up in Dictionary, and more.
Don't worry about remembering all this — a one-page cheat sheet in the book will jog your memory until LaunchBar has worked its way into your fingertips.
Consider two examples:
Example 1: The most beloved LaunchBar function is to access apps quickly — especially apps that you don't keep in the Dock. Just invoke LaunchBar (with a keyboard shortcut of your choosing), type a quick abbreviation — whatever seems natural to you — and press Return. (Or, take the express route with LaunchBar's handy Instant Open.) LaunchBar doesn't require predefined abbreviations; instead, it adapts to you! This method of accessing an app uses the Abbreviation Search, superpower #1.
Example 2: Once you've become accustomed to the ease of accessing any app, you can start applying abbreviation search to other tasks and begin to unleash LaunchBar's other four superpowers. One example is to employ superpower #5, Instant Send, to file photos: select a photo's file icon in the Finder, hold down the key you use to invoke LaunchBar for an extra second to put the file on the bar, select the Add to iPhoto action, and press Return to send the photo to iPhoto.
We could go on forever with our favorite examples: pasting the third item back from the clipboard history, moving a file into a deeply nested folder, creating calendar events, skipping to the next track in iTunes, running Terminal commands, looking up terms in Wikipedia, counting the characters in selected text, tweeting a quote from an article, finding your uncle's phone number, and so on.
To learn how do all this, and more, read the ebook!
Book Details
Paperback: 127 pages
Publisher: TidBITS Publishing, Inc. (July 2013)
Language: English
ISBN-10: 1615424237
ISBN-13: 978-1615424238
Download [8.7 MiB]