Windows 8 For Seniors For Dummies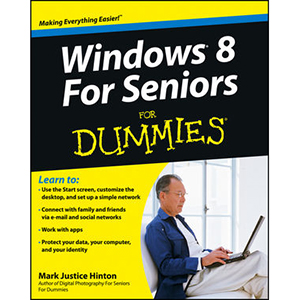 Help beginners of any age get started with Windows 8 with this easy-to-understand guide!
In easy-to-follow steps, this fun and friendly guide shows you clearly how to use Windows 8. Featuring a large font that makes the book easier to read and magnified screen shots to help make the subject matter less intimidating, author Mark Justice Hinton walks you through the basics of Windows 8, so you can make the switch without a hitch.
Explains Windows 8 with easy-to-follow steps and tips for senior readers
Covers how to use the Internet, send and receive e-mail, upload and download photos, view video, listen to music, play games, use a webcam, and more
Uses a senior-friendly larger font for text and includes more than 150 enlarged screen shots
Discusses topics important to senior readers, including keeping data and personal information safe and secure
Get started using the exciting features of Windows 8 today, with Windows 8 For Seniors For Dummies.
From the Back Cover
Take control of Windows 8 with these friendly, plain-English instructions
Some days, it feels like every device in your home is smarter than you are. Here's how to take back the power! This easy-to-follow guide helps you master Windows 8 so you can use your computer for both practical tasks and entertaining experiences. This book is not a course in technology; it's more like having a friend show you just what you need to know.
Start here — use the Start screen and apps, switch between apps, and adjust the settings
Have it your way — see how to perform the same tasks with your keyboard, touchscreen, or mouse
The world of the web — browse with Internet Explorer, search for information on just about anything, and learn to stay safe
Socialize — connect to social networks, chat via the Messaging app, keep important dates on your online calendar, and set up your e-mail
Do fun stuff — play music, watch videos, and copy photos from your digital camera to edit, share, and print
Open the book and find:
Steps for setting up user accounts
Tips on creating and changing passwords
What you need to know about the new Windows 8 apps
How to check for updates
Fun ways to share photos
Ways to locate a misplaced file
Help installing printers and other devices
What to do when things go wrong
Learn to:
Use the Start screen, customize the desktop, and set up a simple network
Connect with family and friends via e-mail and social networks
Work with apps
Protect your data, your computer, and your identity
Book Details
Paperback: 384 pages
Publisher: For Dummies (October 2012)
Language: English
ISBN-10: 1118120280
ISBN-13: 978-1118120286
Download [18.6 MiB]