Getting a Business Loan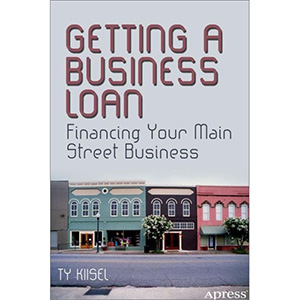 Every day,  Main Street businesses wrestle with the challenge of finding the cash to finance growth or use as working capital. The local banker often wants a credit score of 720, three or more years in business, and a fat savings account. No wonder local bankers approve only 10% of loan applications.
Getting a Business Loan: Financing Your Main Street Business shares something your local banker might not want you to know—small business owners have options. And this book describes those alternative lending sources in detail, as well as traditional sources of funding like banks and credit unions.
Half of all business startups don't make past their fifth birthday—and often because they can't find the financing required to sustain their operations. Whether you own a small restaurant, a bicycle shop, a hardware store, a small manufacturing company, or a service business, Getting a Business Loan offers easy-to-understand descriptions of loan options that can keep you going, as well as practical advice on where to look for money and how to apply.
What would you do with an extra $40,000? Expand your restaurant? Hire a new employee to fulfill a new contract? Buy a needed piece of equipment? Getting a Business Loan will:
Detail how bankers look at you and your loan application
Explain the menu of non-bank financing options available to business owners, like asset-based lending, factoring, merchant cash advance, local "hard money," and more
Show how to locate potential lenders via the Internet and other means
Show how to prepare before you visit the lender or fill out an application
Main Street businesses aren't limited by the local bank's footprint any more. There are people and institutions all across the country that lend money to small business owners. If you want to find the money you need to strengthen and expand your business, Getting a Business Loan will show you how.
What you'll learn
How to speak to your banker about a loan
The different types of loans available at your local bank or credit union
How to qualify for an SBA loan
Alternative financing options, where to find them, and how to apply
Using the Internet to find money for your business
What to do if you don't qualify
Options for business owners in dire straits
Who this book is for
Getting a Business Loan is for the 7 million+ Main Street business owners with fewer than 100 employees, the backbone of the American economy.
Table of Contents
Chapter 1. Funding the American Dream
Chapter 2. Building a Relationship with the Bank
Chapter 3. Keeping Your Relationship Personal
Chapter 4. Getting the Right Bank Loan
Chapter 5. Navigating the Maze of the SBA
Chapter 6. Angels and Venture Capital
Chapter 7. The Sun Will Come Out Tomorrow
Chapter 8. Asset-Based Lending
Chapter 9. Factoring
Chapter 10. Commercial Real Estate Loans
Chapter 11. The Merchant Cash Advance
Chapter 12. They Call It a Credit Card for a Reason
Chapter 13. Peer-to-Peer Loans
Chapter 14. Business Acquisition Loans
Chapter 15. Franchises
Chapter 16. Startup Funding
Chapter 17. Crisis Borrowing
Chapter 18. WOSB and Other Loans
Chapter 19. Small Business
Book Details
Paperback: 212 pages
Publisher: Apress (November 2013)
Language: English
ISBN-10: 1430249986
ISBN-13: 978-1430249986
Download [1.7 MiB]