Internet Marketing: An Hour a Day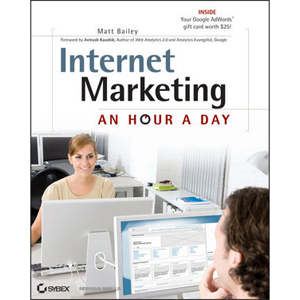 Proven, task-based approach to developing winning internet marketing campaignsIf you've been seeking a practical, day-by-day, do-it-yourself plan for success in your Internet marketing, this is the book for you. The latest in the very popular Hour a Day series, this book gives you step-by-step instruction and clear action plans for all crucial aspects of successful internet marketing: SEO, website optimization, integration of social media and blogs, and pay-per-click strategies. Above all, it shows you how to use analytics effectively, so you can track and understand your results, then course-correct as you need.
Provides step-by-step instruction to help you design, implement, and measure an internet marketing strategy
Uses the empowering and winning approach that has made the books in the Hour a Day series top sellers
Breaks down intimidating topics into approachable, hour-a-day tasks
Covers key topics in step-by-step detail, including SEO, website optimization and usability, analytics, blog integration, social media, and pay-per-click strategies
Offers expert guidance from an experienced and well-known internet marketer, Matt Bailey
Drive targeted traffic to your site, keep them there, and convert them into happy customers with this refreshingly practical, roll-up-your-sleeves guide!
From the Back Cover
This is the ultimate comprehensive guide to do-it-yourself Internet marketing. Using the popular An Hour a Day approach, this smart, proven plan for Internet marketing success gives you a day-by-day, step-by-step plan that covers all aspects of successful online marketing.
Learn how to optimize your site for users and search engine rankings, craft compelling content, develop winning pay-per-click campaigns, use and react to website analytics, and leverage the power of social media to put your marketing efforts over the top. Inside, find everything you need to increase your website's rankings, visitors, and sales.
Evaluate your current website, figure out what you want visitors to do, and set goals
Understand basic SEO, on- and off-page ranking factors, and keywords
Create content that converts your visitors to paying customers
Learn ten old-school sales techniques that work like a charm on websites
Apply keyword research strategies that will be a foundation for a total marketing plan
Master the power of the technology—links, redirects, dynamic URLs, e-commerce, and more
Get control of social media—learn which types work best for you and adapt them to your business
Take the organic view of pay-per-click marketing and avoid the five biggest PPC mistakes
Measure with analytics, see what's working, respond to market trends, and identify improvements
You'll also find:
Essential hints, tips, and techniques for everyone from one-person shops to Fortune 500 companies
Real-world case studies that illustrate successes to learn from and mistakes to avoid
Praise for Internet Marketing: An Hour a Day
"In the sea of Internet marketing books, this one rises to the top for its clarity and focus on generating ROI. It should be required reading for all business owners."
—Eric Greenberg, Faculty Chair, Center for Management Development, Rutgers University
"Matt Bailey does a phenomenal job making the complex simple. He gives you the master plan to follow so you can develop the core skills to drive traffic to your website, analyze what that traffic is doing, and persuade that traffic to take more actions on your website."
—Bryan Eisenberg, bestselling author and professional speaker
"Even the most time-strapped technophobe can understand Matt's easy-to-follow steps, implement his suggestions, and drive qualified website traffic."
—Heather Lloyd-Martin, former chair, Direct Marketing Association Search Engine Marketing Council,and CEO, SuccessWorks Search Marketing
"If you have a struggling site and can't figure out why it isn't performing?better, or if you just got your first PC and know your new business needs a Web presence, this book will more than repay you. It will build your business."
—Charles Prescott, Editor, Prescott Report, and Director, Direct Marketing Association
Book Details
Paperback: 600 pages
Publisher: Sybex (April 2011)
Language: English
ISBN-10: 0470633743
ISBN-13: 978-0470633748
Download [41.2 MiB]