Think Before You Engage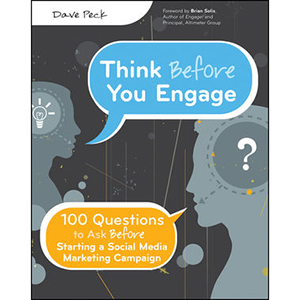 Be sure you've addressed the most important questions before using social media to market your company or brand!
From small business owners to job seekers, social media marketing campaigns are being started every day. However, without the proper prep work, campaigns fail, brands or organizations are impacted, customers are not engaged, and money and efforts are wasted. This invaluable guide answers all the most important questions to consider before starting a marketing campaign using social media so you can avoid common pitfalls.
Social media guru and author David Peck presents you with a working knowledge of the different social media tools that are needed to effectively embark on a social media marketing campaign.
Guides you through defining goals, setting up a web site, using pertinent social networks, linking sites together, building a community, and monitoring progress
Features numerous real-world stories that offer unique insight on what to do and what not to do
Shares simple tips for developing a web site with no code required
Sifts through the enormous amount of social media available and helps you select which is most appropriate for your needs
Addresses how to locate and engage people and then keep them coming back
Answering a plethora of common questions, this book shows you how to engage your customers with social media in a way that will keep them coming back for more.
From the Back Cover
Know what you want to achieve and how to get there
Simply having a social media presence is not enough. Your tweets, websites, blog posts, and social networking pages can build your business — or sabotage it. Do your homework. Study these questions before you dive into the sea of social media, and maximize your marketing impact.
Why do I need a brand?
What's the difference between a brand, an online presence, and a persona?
How do I develop my brand strategy?
What is my brand's objective?
What makes a website social?
How do I add a blog to my website?
What tone should I use?
Should I leave comments on other websites?
What about Twitter, Facebook, and LinkedIn?
How do I increase my Twitter following?
Should I link my Facebook and Twitter accounts?
What are LinkedIn groups?
What else should I think about?
Do I still need a business card?
What's a Tweetup?
How can I keep my social media efforts interesting?
Book Details
Paperback: 312 pages
Publisher: Wiley (September 2011)
Language: English
ISBN-10: 1118018818
ISBN-13: 978-1118018811
Download [7.6 MiB]