Twitter Up Your Business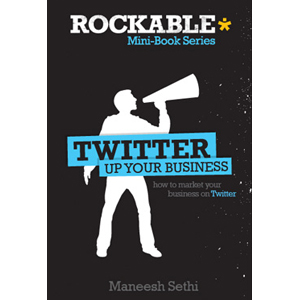 How to market your business on Twitter
In this Rockable* Mini-Book, author Maneesh Sethi takes a look at the social networking phenomenon Twitter from the perspective of a business owner, and explains how to make the most of the service to boost your company's brand, popularity, and -of course- sales.
By the time you've finished this book, you'll know not only the basics of Twitter usage, but how to deliver value in only 140 characters, build a loyal following, and use that following to expand your reach and market your business.
What will you learn
In this book, you'll learn enough to go from beginner to power user.
In Chapter 1, you'll learn how to set up your Twitter environment; that is, create an account, get started with Twitter, and download some cool Twitter programs.
In Chapter 2, you will learn how to find interesting people to follow on Twitter.
In Chapter 3, we'll talk about how to deliver value to your users.
In Chapter 4, you'll learn how to get lots of people to follow you.
Finally, in Chapter 5, you'll learn specific strategies about how to use Twitter to market your business.
Book Details
Paperback: 78 pages
Publisher: Rockable Press (December 2009)
Language: English
Download [5.8 MiB]