Search Engine Optimization All-in-One For Dummies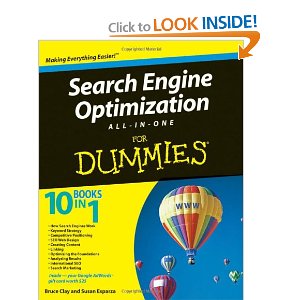 If you have a business, you want your Web site to show up quickly when people search for what you're selling. Search Engine Optimization All-in-One For Dummies has the whole story on how to build a site that works, position and promote it, track and understand your search results, and use keywords effectively. And it includes a $25 credit on Google AdWords, to get you off to a good start!Ten handy minibooks cover how search engines work, keyword strategy, competitive positioning, SEO Web design, content creation, linking, optimizing the foundations, analyzing results, international SEO, and search marketing. You'll even learn some geeky things like HTML, JavaScript, and CSS, or how to match metatags and keywords to page content.
Book I explores how search engines work and which ones offer the best exposure
Learn to develop a keyword strategy and be competitive with Books II and III
Book IV helps you design an SEO-friendly site, while in Book V you learn to create content that lures your audience
Tips in Book VI show how to line up relevant links for a better search showing
Book VII shows how to get more from your server and content management system
Discover how to measure your site's success in Book VIII
Book IX helps you globalize your success by marketing in Asia, Europe, and Latin America
Use SEO and Book X tips to build your brand
With all this information and a Google AdWords gift card worth $25, Search Engine Optimization All-in-One For Dummies has what you need to make your site a hit with search engines.
From the Back Cover
Boost your bottom line with your $25 Google AdWords credit — see inside
If you have a business, you want your Web site to show up quickly when people search for what you're selling. Here's the whole story on how to build a site that works, position and promote your site, track and understand your search results, and use keywords effectively — plus a $25 credit on Google AdWords to get your online advertising efforts off to a good start!
What makes 'em tick — Book I explores how search engines work and which ones offer the best exposure
Words are key — learn to develop a keyword strategy and be competitive in Books II and III
Lookin' good — Book IV helps you design an SEO-friendly site, and in Book V, you learn to create content that lures your audience
Link up — the tips in Book VI show how to line up relevant links for a better search showing
What's under the hood — Book VII shows how to get more from your server and content management system
Confirm your suspicions — discover how to measure your site's (and your competitor's) success in Book VIII
Expand your horizons — Book IX helps you globalize your success by marketing in Asia, Europe, and Latin America
Search and find — use SEO and Book X tips to build your brand
Open the book and find:
What drives search results
How to match meta tags and keywords to page content
Secrets for selecting keywords and phrases
What you should know about HTML, JavaScript, and CSS
The basics of SEO-friendly design
How to manage the mechanics of content
Why your server is important
Your Google AdWords gift card worth $25!
Book Details
Paperback: 768 pages
Publisher: For Dummies (April 2009)
Language: English
ISBN-10: 9780470379738
ISBN-13: 978-0470379738
Download [18.4 MiB]